Ok...I spotted this skin and decided to give it a go. I will give the pro's & con's of it, but overall it's really a good skin. I will post a few pics now and some body shots later. I didn't plan for him to come out as 'tan' as he did but that is because the skin color shading doesn't change much from CAS to game as most skins do. He is really much lighter and has been in my game forever! I think he showcases the skin nicely and the addional pics will show more the actual color of the skin I was aiming for.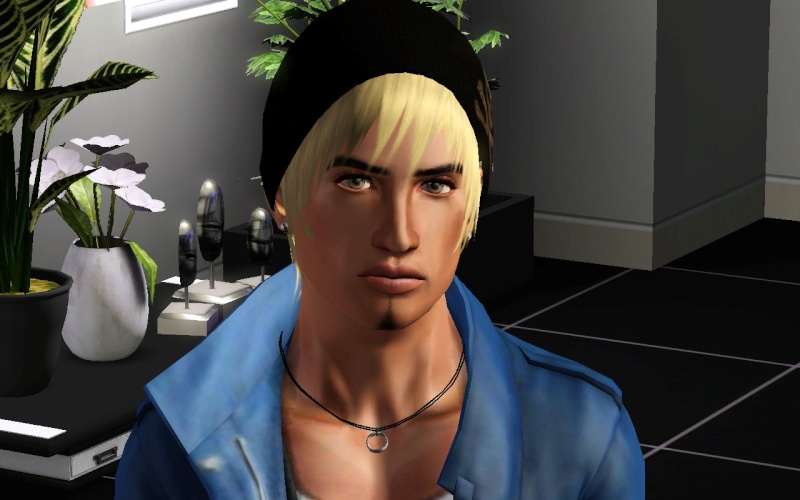 Pro's:
It's really good quality made and the creator put a ton of work into making it.
It shows great in darker tones as well as lighter ones.
Great detailing on the overall skin, nice collarbone detail, facial pores are A MA ZING and they don't look misplaced on any sim size.
Creator added some vein-age also for a more realistic look.
Eye detail has it's pro's and con's. Pro's on this is awesome construction, great detailing, con's are looks awful in CAS and it's a bit dark under the eye but can be easily fixed.
The nose is detailed nicely as well as the ears. (rare)
Nostrils are very nicely dark and detailed.
Lips are lined lightly and look great! (can't tell so much from my pics)
Con's:
It looks horrible, at least the face, in CAS...this I can only assume is due to the shading the creator did to make the skin more detailed in game rather than CAS. Smart!
But could have also been a no dealer if I hadn' taken into consideration that sims do change some of their color and detail in game.
Could stand a bit more detail on the outer and inner knee's.
I haven't seen the female nipples, the male nipples look a bit awkward, not too bad, but the shading is just a bit off.
The belly button is a total fail (I'm sorry) but it's way too large and too dark. It makes the belly button look dirty. I can see what the creator was aiming for as the belly button is very detailed, just terribly off.
I wish we could get a bit more detail on the actual fingernails, but that's a small thing.
So overall, a great skin to have to just mix up your sims so they have a bit difference. I think she did a fab job however I would like just a touch more shine to the skin. But it's still good.
I'm forever a fan of Evie's so this does NOT surpass her greatness in making skin but she holds a close second.
Here is the
LINK
to view the actual creators site, 'Capital Sims' and get download information.
This is def a Cece pick!
*edit
I did try this on the females and I'm a bit disappointed in some of the areas of the skin. The nipples are a bit off in shading and detail...which can be a plus or negative, depending on how often you showcase your females nude.
The creator tried to enhance the shading around the females breast to show more cleavage for even the small breasted females...however...this can make what could be a 'B' cup sim look like a double D sim. Too much shading under and around the breast which on darker sims looks a bit dirty and not so much detailed.
Also with the adaption of trying to make more cleavage...it makes it difficult to make the breast look more natural.
I agree with Ny on the butt. Butt crack is a bit too high and it makes the bikini bottom of any kind look to small as if the sim tried to squish her big booty into a tiny bikini bottom.
Little to no knee detail both outer and inner, actually little to no detail on the legs; even in the muscular stage.
And the belly button looks more displaced and too large on the females than the males.
Overall facially , I'd say A+, but I like for the body to match the face in detail and style. I do LOVE what you can do with the makeup, as I mentioned...it does give for a more realistic look which is what I aim for in creating sims.
Still a good skin to use alternatively just for a change of pace.
_________________
He just makes my belly button smilez!