This is a suggestion to MS3B.
This has nothing to do with what people say about my creations shared on MS3B.
This has everything to do with flat out, crude, awful, and mean people.
Once upon a time I found out that custom content existed. Then after months of struggle, I finally figured out how to install it. I then began looking everywhere for a good place to find all of the great downloads everyone shares. That place was My Sims 3 Blog.
I finally got up enough nerve to email MS3B and request them to post some of my sims that I have created. After a week or two, I began seeing my creations featured! I was like a little kid at christmas, it was an honor to have this well known Index of Custom Content share things that I have created, me, a not so important girl from a small town.
One long boring day I decided to browse the comments on that wonderful blog. Unfortunately, the nice comments were very few and far between. It was full of immature, mean, rude, and pointless remarks directed at the creators themselves and at the content they have made. I was disgusted. "Do manners even exist anymore?" I thought to myself.
Sorry people, but I don't know one person out there that likes being insulted, and I for one think its repulsive. I know how it feels to be so proud of something I've done, only to have it shot down minutes later with some bitter, poor arrangement of words over the web. Yes, it shouldn't bother me, but I am not the only person this has affected. I know there are several other creators that are fed up with the ill mannered responses over at MS3B.
My only suggestion for MS3B is to turn off the comments. If there are creators out there that no longer want their items featured on your blog because you shut the comments off them so be it. If people really want to give some criticism or personally bash a creator or their creations then they should contact the creator directly, not post some awful comment that will get a laugh out of some other jackass.
And to all the anonymous rude posters over there, please stop posting as anonymous and take responsibility for your arse hole comments. Here's a picture for you morons.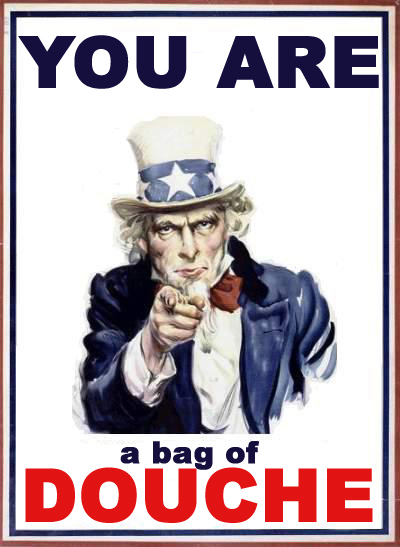 Ok so thats a tad immature, but the picture makes me laugh XD.
Thank you for your time.