Hi guys ! I wanted to show you two of my sims ! I'm quite proud of them because I made them using EA sims as a base and I think they look great and more importantly, they came out just as I wanted them
! I don't know why but I have an habit of making a background to my sims and these two have a common background ! So beware of the lenghty background that follows ! Also, please don't pay attention to the ugly wallpaper and furnitures,
I was too lazy to change to something nice
First my favorite sim,
Savannah Keager
!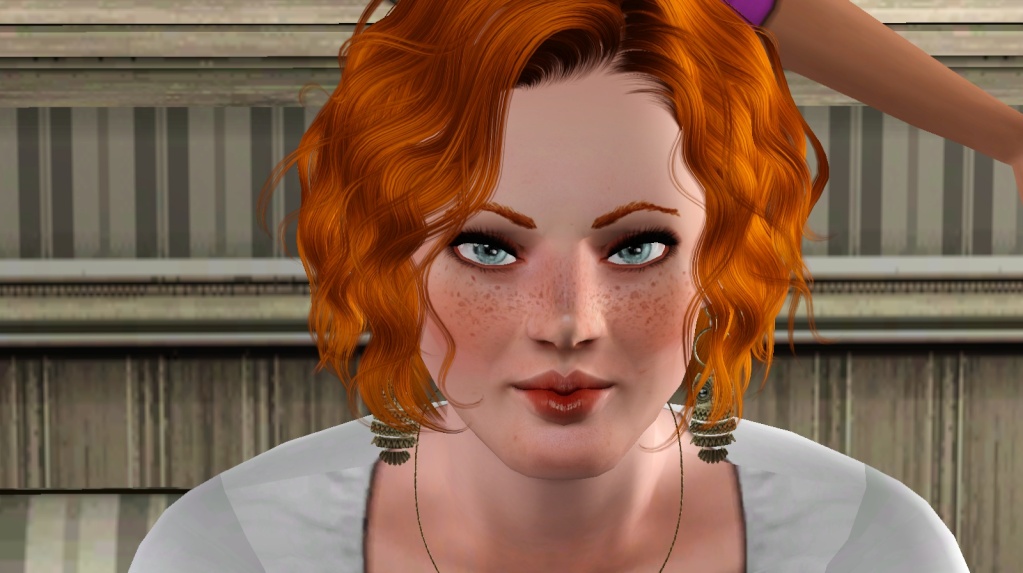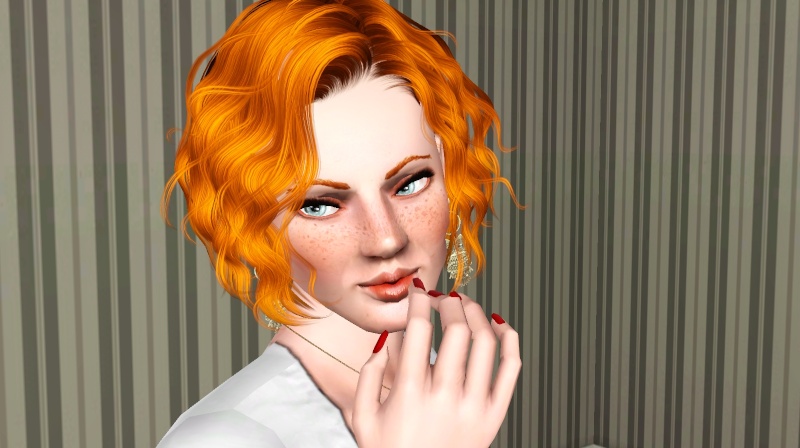 Savannah took after her father sharp and defined features but she has the always smiling eyes, childish nose and beautiful mouth of her mother. As a kid, she was often bullied because of her strong jaw and this is why, later, she began to begrudgely wear make-up and dress to look more like a girl (She'll never admit that she slowly took a liking to make up and feminine clothes). She grew up in a modest (almost poor) family with her four rambunctious brothers as her models. So even if she
likes to look feminine
wears make up and dresses, she is a utterly tomboy. She isn't afraid of getting dirty and loves sports and it shows with her slender body which has some muscles. She is as fiery as her hair color and she doesn't like to be told what to do and is always speaking her mind. Younger, she liked to watch her brothers doing mechanics and she picked up some of their skills. She always was a good student but was not accepted in college because her parents were deemed too tight on money to pay for the studies.So she made a deal with
Lana Oakes
who is currently her roomate. Unfortunately the deal is more complicated than what she thought and it doesn't help that she hates the guts of her roomate.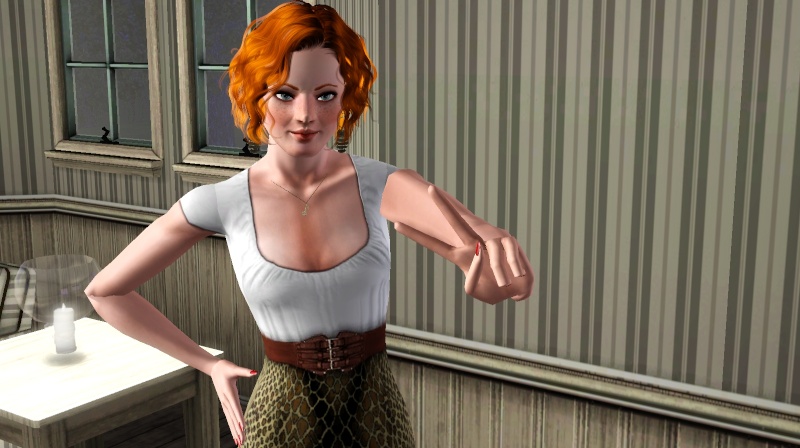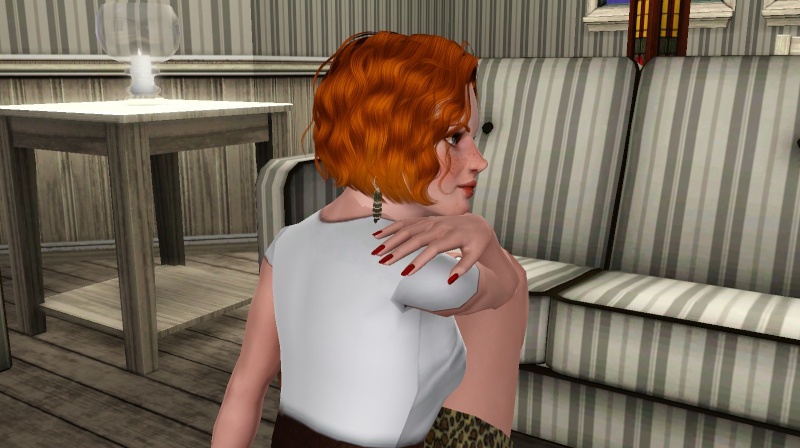 Here's Savannah's roomate,
Lana Oakes
( I completely dislike this Sim and I'm happy of it as my goal was to make her insufferable
)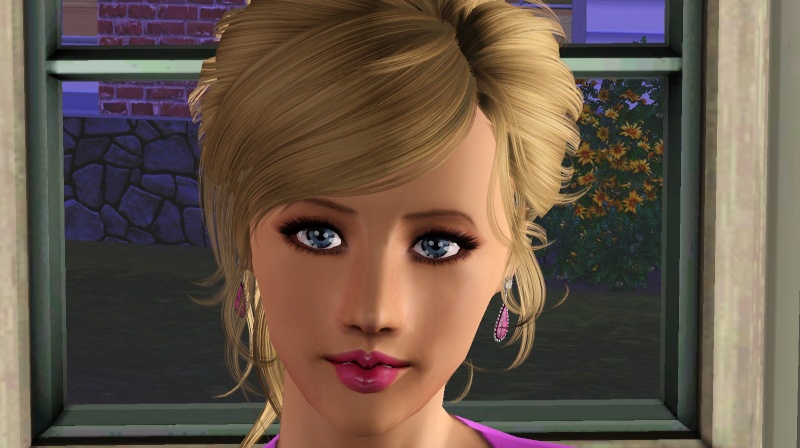 Lana is the complete opposite of Savannah. She grew up in a more than rich family and is the only daughter. Her parents showered her with presents and everything she wanted, she got. She quickly learned to use her angelic features to her advantage and feels no remorse when she manipulates people. She is a smart witch and she'll never outrightly do something wrong to you. She's subtle and uses her silver tongue like nobody else. Of course, as the daugther of a powerful CEO, she's always seeked by medias and she relished in the attention. Of course, it also means she can't do any slight misstep (Not that she does any, she's too perfect for failure mind you). So, she built a perfect image of herself where she is a kind, loving woman who'd do anything to help anyone who is in the need. Thus it's no wonder that more than half of the men view her as the perfect woman; the greatest personality with the hottest body. Of course not everyone is fooled by her masquerade. So when one day an actress during an interview was asked what she thought about her coworkers acting and answered " It's not my place to judge how they play their role, it's the public's. Their job
is
to be an actor unlike Lana Oakes who besides being daddy's girl is nothing else. If she wants to be an actress this bad, I'd like to give her an advice: It's useless to act like a lamb when you're a snake because the forked tongue will always come out at one point", Lana was downright furious and nearly blew out her perfect image. But instead she did what she does the best : Deception.
To restore her tarnished reputation, she decided to quit the family home and to get a law degree. She met Savannah at a prestigious college where she was giving a piece of her mind at the reception about her inability to go in college. Lana with her calculating mind sawthe redhead as an opportunity to give more realism to her "gentle side" and that's how she told Savannah that she could pay for her studies and even gave money to her parents if in exchange she played her little game as a friend that appreciates her and promoted her good side to media but she had to live with her so Lana could keep an eye on her so she wouldn't tell everyone the truth. Savannah, for hers parents' sake and hers agreed, even it goes against her morals.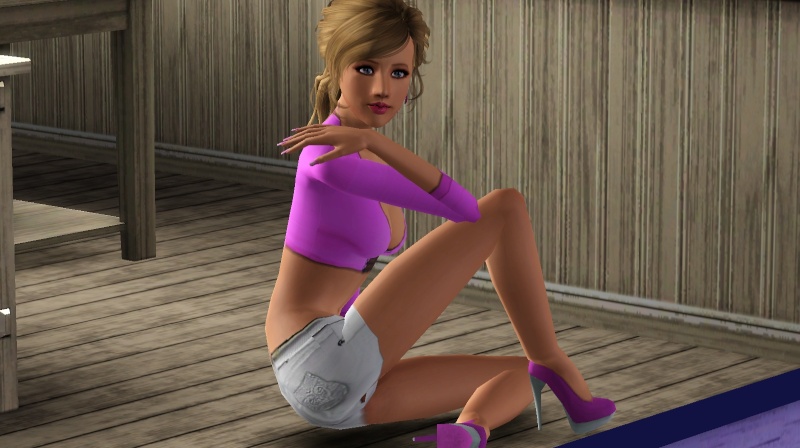 That's it
So, what are your opinions about them ?
By the way, I'm sorry if there's anything that doesn't make sense and/or mistakes that I might have make but I'm so excited to show you my sims that even if I have re-read twice I might not have notice them ! Sorry
Here's two other pics of the two roomates together !