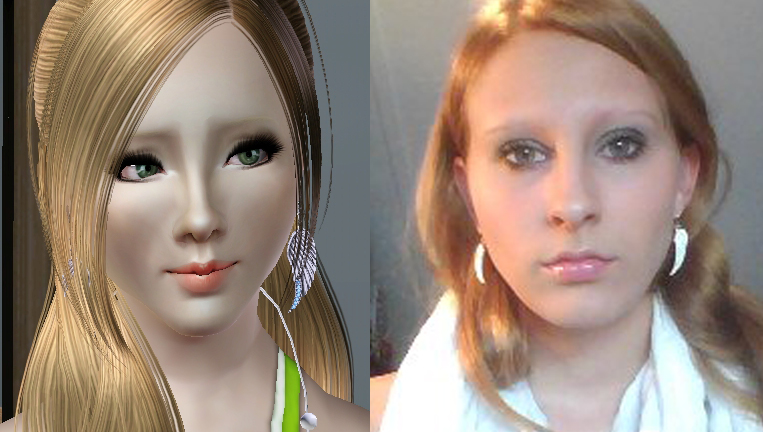 Ok, so bear in mind you totally don't have to make any of these changes - this is just what I think would help your sim look closer to your real-life self and a bit more realistic.
- Decrease Eye Distance *** Nevermind, hehe, I see you said you would change that
- Eyes are rotated "up and out" a bit too much.
- I actually usually lower the lashes to nothing/take off the 3D lashes when I'm first sculpting the eyes so they don't get in the way. You totally don't have to do that. When I feel pretty OK with the eyeshape, I put the 3D lashes on (if I think they suit the sim, I don't always use them) and adjust the eyelash sliders to fit the eyeshape. I'll go back and forth between taking the lashes on and off sometimes. It truly depends. But if you're having trouble shaping the apex, I would just lower the lashes for a bit first.
- I would bringe the Nose Bridge a little bit higher. It looks too low. I would raise the nostrils slightly and/or rotate the nose up just a bit more. You might have to fiddle around between nose rotate and nose tip rotate. I think the nostril rotate slider by aWT would be tremendously helpful here. The default sim nostrils are so hard to get the right shape. This is another place where a different skin would make all the difference since they all place the nostrils slightly differently and can completely change the look of the nose.
- Turn Mouth Curve more down, maybe mouth corners. Not so much so that she looks like she's frowning, but your own lips are a different shape.
- I would increase the width, shape, and thickness of the bottom lip. Yours is quite full in real life and the sim's is kind of defined and tiny.
- If you have Jawline Width, and it looks like you might have used it to narrow the sim's jawline, I would reverse this. Your jaw/face shape is fuller. Sometimes I have jaw shape and jaw width set higher, but then I decrease Jawline Width, or vice versa, so I can get some nice definition without the sim's face ever looking too heavy or "fat." If you're afraid of this, the jawline soften slider by awT or the Chin-To-Neck-Line slider by Heiret both fix this problem times a million.
- It looks like the face height is a bit too low. I might raise it up a bit.
Sooo...that was a lot of feedback. X___X I get carried away. Like I said, that's all just speculation.
As for the skintone problem, do you have the updated skintone panel expander by CMAR at MTS? It had to be updated with the latest patch, or maybe you didn't have it previously installed either? I have the 1.36 version of it (I think it's actually compatible from 1.29-1.36) if you can't find it online. If you've patched to 1.38, it's included in the XCAS mod at ModTheSims. It comes in the extras package - you don't need the full mod, that includes a slider hack, just the SkintonePanel file. I would die if I could not access all my skins. :O
If you can get it working, I think this skin would be perfect when applied in the lightest tone:
https://www.box.com/s/2fd7a6cd443ad3ef683a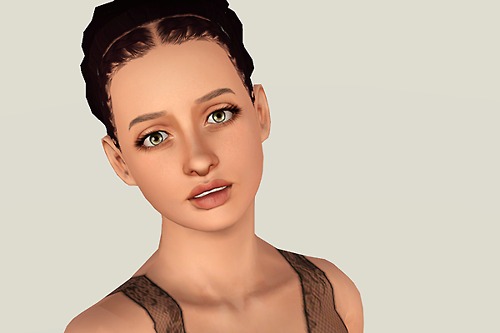 This skin is identical to the above except it has slightly different nostrils:
http://www.box.com/s/8dzobbq7zta85f07llke
Yes, you are definitely right about getting regular haircuts/trims. I think I'm just impatient and probably actually need to eat more. My hair is suffering.