Well...finally got University installed and up and running...well NOT running per say...but moving along at an ok pace.
Although I will have to eventually remove it and replace it with another Uni ep pack. I will explain this later....darn Amazon!!
Any who...I decided to send 2 Sims to college...just for kicks and giggles and to get it from both a male and female perspective.
From a household of 7 I decided to send:
Ni'Niah
Here is Ni'Niah still at her residence in Sunlit Tide. She doesn't look overly thrilled at the idea of College.
Here, she is in CAS getting ready for her road trip. New hairstyle maybe...let's try a few and see if we want to change up.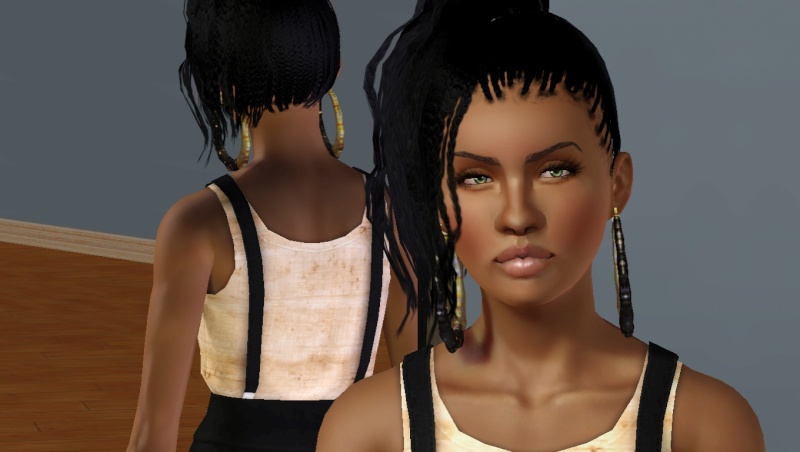 Here is a nice profile view of Ni'Niah. I love profiles...they bring so much character to the actual overall Sim! Must create your 'profile' as you create your Sim...makes all the difference!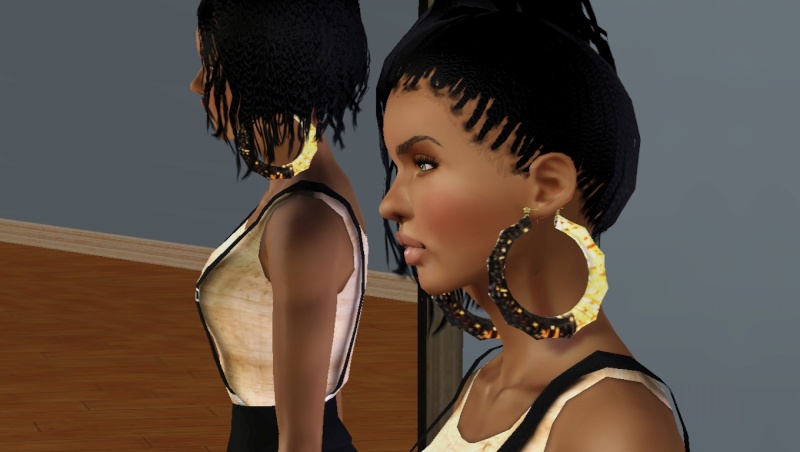 This is Ashe...he will be attending College with Ni'Niah. They are just really great friends and roommates...no hanky panky between them. Ni'Niah has a boyfriend that lives with them in the house in Sunlit.
Ashe is preparing to leave for College, and he does look to be excited! Of course...for some strange reason Ashe is ALWAYS smiling with his happy ass!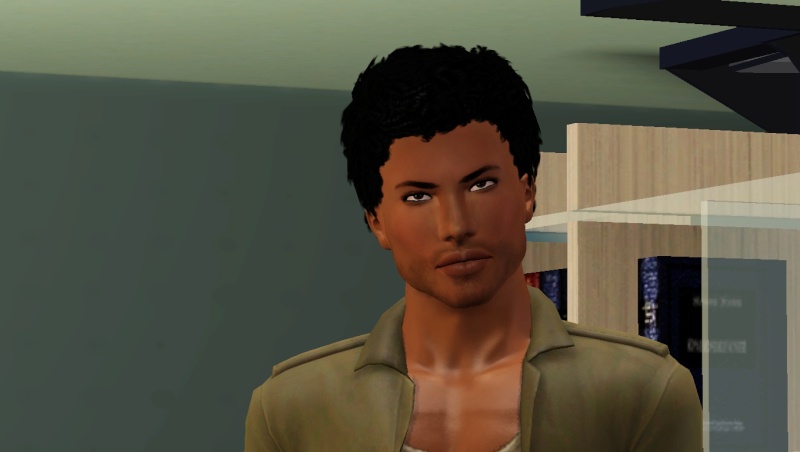 Well, well, well....what do we have here?! The University Mascot has arrived to drop off their baskets!! She just looks too darn happy....I guess she truly just LOVES her job! Whatever...

Ni'Niah is still apprehensive about her appearance. She truly is stumped on how she wants to wear her hair. Decisions, decisions, decisions.
This style is cute, but she still truly can't decide and time is nearing for her ride to pick she and Ashe up! At least she has most of her wardrobe together...better than Ashe at least. Dudes....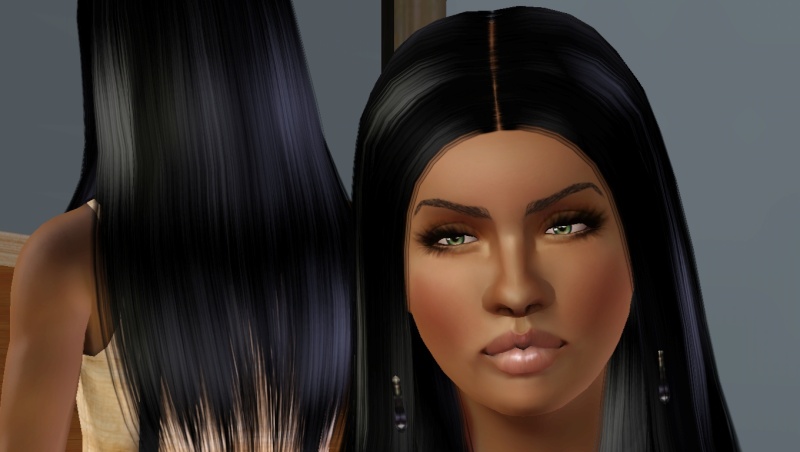 Well...looks like she will have to go with this for now. Not a happy camper, she feels like it truly doesn't frame her face the way she'd like. She is determined for her first day to be special, and this hair is just not getting it! She is happy with her new outfit she is wearing! She has been wanting those converse tennis shoe boots FOREVER!!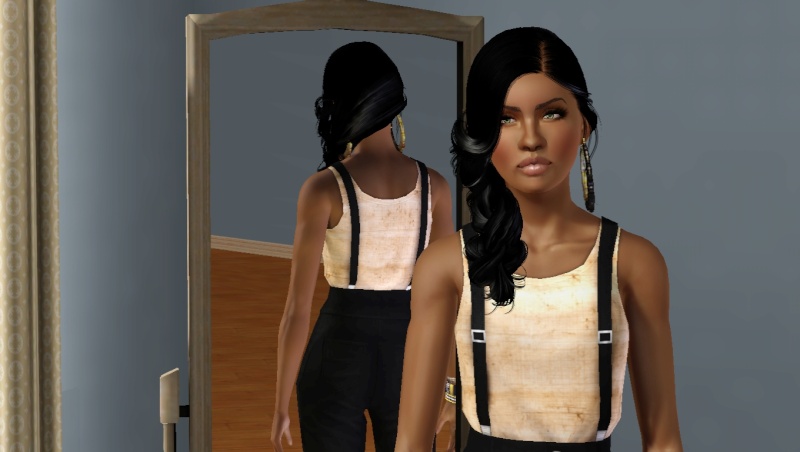 Not much for Ashe to do to prepare his appearance for the first day...basically just shopped for some new duds and that's it!
He let Ni'Niah help him with some of his outfits and is kind of regretting let her push him into buying this basic off white long sleeve tee. He is not feeling it but doesn't want to hurt her feelings, so he will suffer through silently.
Finally here!! They decided to rent a house instead of getting dorm rooms, and since they did not belong to any Frats or Soro's, this was the better option for them. 2 bedrooms, 2 baths...this should work out just fine and it's only $695 a month!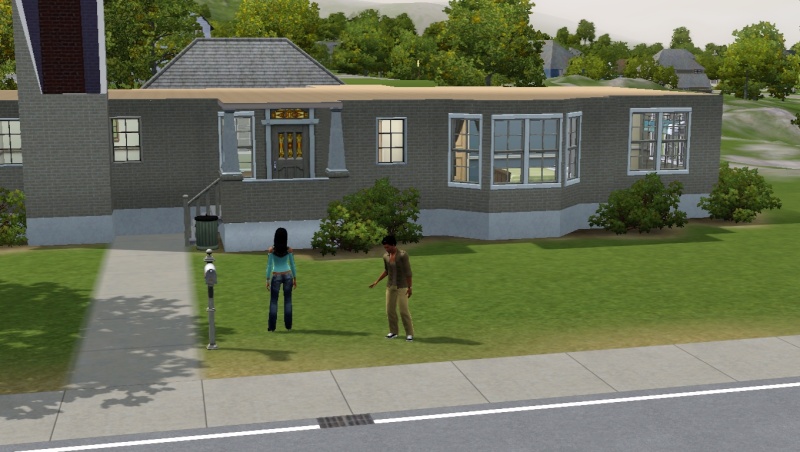 Ashe is pleased with the place...he is pretending to be Dj'ing and spinning records. Ni on the other hand...is not quite sure.
Seems like reality might be sinking in for Ashe...he is looking a bit nervous. This is a seriously HUGE step in his life and he knows he is really going to have to buckle down. Of course, he IS single...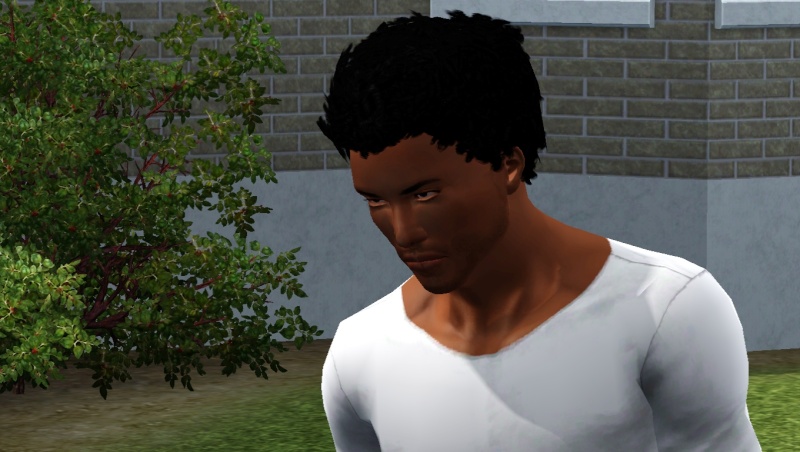 Ok...you get what you pay for...not bad though...older furniture and definitely older bathroom decor and appliances. The landlord told them he would be doing some renovations on the place. Nothing major, but the bathrooms both get a new overhaul, a new fireplace is needed just a precaution because the one there is seriously old and outdated. He has told them he 'MIGHT' not raise their rent with the renovations...but no promises. Uh oh...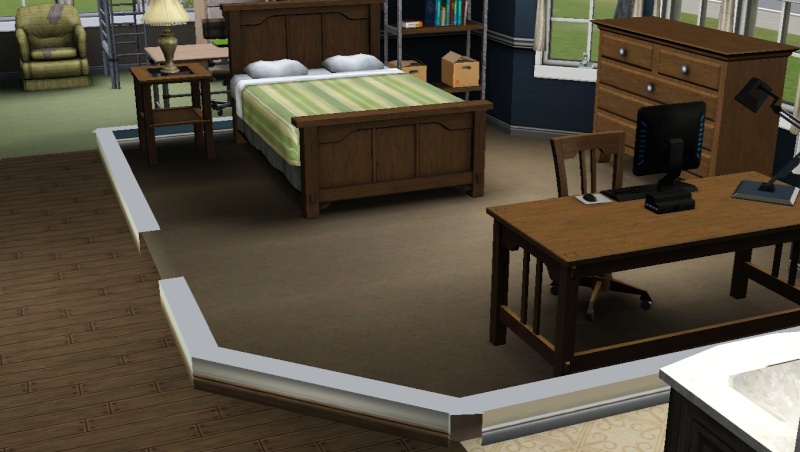 A pretty spacious place for just the 2 of them.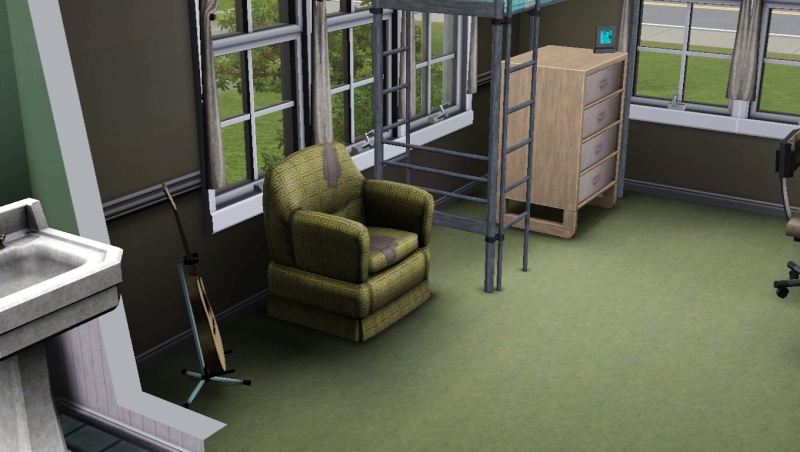 **will post some more pics in a little bit! brb!
Okay...I'm back...let's continue!
Just a few shots of the house inside and a few outside.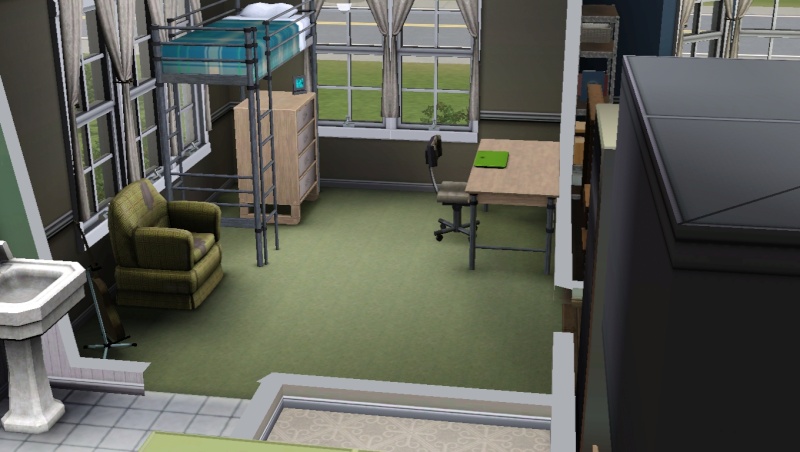 They agreed that Ni would get the bigger bedroom...being a girl...batting her eyelashes...she sweet talked him right out of the bigger room! We girls got it like that ya know!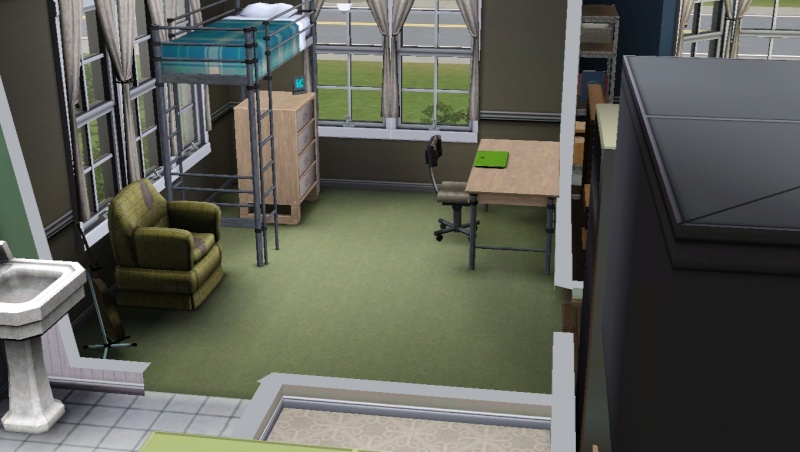 Yep...very outdated, but hey...it's already furnished...(gag!
)...but it's work around'able and with a few added touches and their own added personal things....it should work out to be nice and comfy!
Definitely will have to add their own touch to it!
Upon showing these co'eds their new residence...the landlord shows them their backyard. HUGE and lots and lots of potential...barbeques, bon fires...and much more...HOWEVER...and it's a big however...the landlord is stating that he had plans to do some outdoor renovations as well....and well....it may or may not raise the rent a little bit...but he 'assures' them it won't be too much. Right....

One car garage, but 2 car parking including outside of the garage is way cool to them. Better than most that have to live in dorms...just parking lots! Both Ni and Ashe have their own vehicles so this worked out nicely. Plus...they bought their bikes to save gas...so that is a plus as well!
Well, admittedly the idea of more rent is a tad frightening, but they think it should be okay. They have also decided if it becomes a bit more than they prepared for, they can always add a roommate. Ni has decided that since Ashe's room has a bunk bed, they can just add two bunkbeds and the roomie, if needed, can be a dude. Ashe is NOT feeling this at all...but they will make do. For now however, he is getting rid of the outdate bunkbed and putting a full size bed into the room. A few posters on the walls, maybe paint the walls and it should suit him just fine!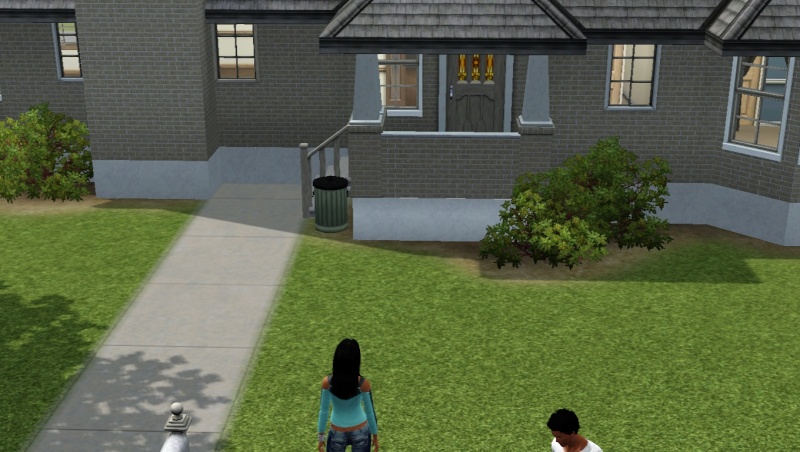 Well, it's Sunday so they have today and tonight to unpack, shop for groceries, go over their schedules and syllabus to prepare for Monday.
Time to get busy because the day will be over before you know it! Might order pizza and get busy!
I will try to post more pics later about them. As mentioned above, I have to uninstall this ep and prepare to replace it with a disk version of the game. I'm going to preview this post and then come back and tell you what happened between Ea, Amazon and Origin and me!
I may make a post in General or Real life (more than likely Real life discussions about my experience just trying to get the proper game! I will post a link here when it's done!
Here is the link
that has the post on Amazon
...be warned...it's very very long.
_________________
He just makes my belly button smilez!