I'm copying this
thread from the officials
because it makes so much sense!  If you're hating on the hair in TS4, have a read...
Quoted from Dailycrumb:
Hi guys
There seems to be 3 opinions going around.
1. Love the look of the Sims
2. Love the look of the Sims apart from their hair, it looks terrible and plasticy.
3. Hate the look of the Sims
So why is this hair dividing us as fans?
It looks all plasticy right? We say this because in both Sims 2 and Sims 3 they tried to give the #impression of real looking hair. They did this by making it look very thin and feathery.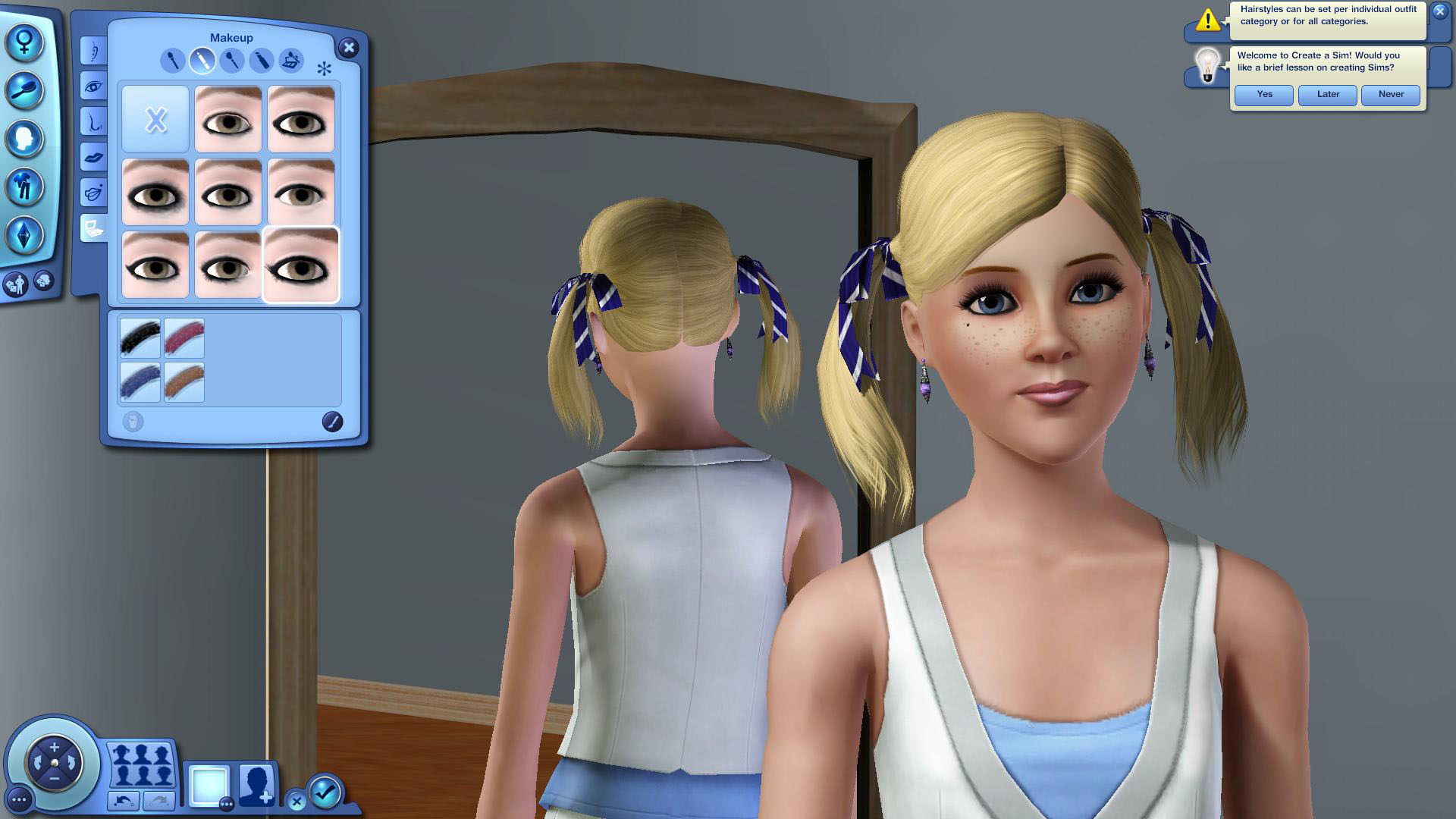 There was never really many long hair styles. This was because the hair was only sat on the head like a hat.
So longer hair would not sit on the animated sim's shoulder, it would pass through it.
Possibly because the designed hair is designed in such a way that it looks more like real hair, with individual threads hanging down.
Because of this problem almost ALL OF THE HAIR in The Sims 3 was short, men and women. We were very lucky if we came across long hair. And when we did, it went through the Sim's shoulders like a glitch we care to forget.
The short hair looked very good though. That is the hair we like.
But it is obvious now that The Sims 4 has taken a different direction with hair, making it flat and texture(less).
But here are my thoughts.
What if this is the case for 2 reasons.
1. It means we can have longer hair without it passing through the Sims' bodies like a  forgotten glitch and instead laying neatly on their shoulders and backs as they interact with other Sims.
Could even move gently and erratically in the wind.
2. *cough* maybe the hair grows.  Mainly number one but never know!
See how their hair is LAYING on them rather than HOVERING over them. This seems to be a huge advance in the technology and animation.
Look at the black and red  hair lay over them.
Oh and one more thing
Earlier on I mentioned that the hair was texture(less)
well maybe it is not. In it's new stylized fashion this hair looks shiny and vibrant. Taking some tips from, you guessed it (Sims Social) but also from a lot of concept art.
The hair looks very good in this picture.
and extremely stylized in this bottom one
Take from that what you will.
Quoted from NomPlay:
If it is in fact customisable which I get the feeling it is (chose the top style then change the length of it) I will really like this hair as I tend not to use cc hair because I hate the hair glitches.
I've pointed this out previously but if you look at the dark girl getting her hand kissed and then sitting on the chair, by her hat and clothes you can see it's the same person but her hair has grown, if the hair does grow and you get it cut that would be amazing and I'd love the hair