First, I must apologise to Miss Eva...I've ruined your Jem
Well to be honest, my game ruined her! Let me explain...I got ALL Jem's CC, like a good little downloader and I installed it all and I started up my game and there was no problems until it got to the loading screen. It took forever. Literally. It never took so long before. Finally it loaded itself up and I got into CAS and I opened Jem up and NONE of her CC was on her. Everything was black. So I let out some profanity and begun investigations.
Well, I found that everything was selected correctly, all the appropriate CC was highlighted and supposed to be on the sim, but no. It gave me a whole bunch of weird black clothes and bikinis when she was supposed to be wearing a frigin dress. Checked my other sims out...same problem. So I had a big massive bitch fit. I eventually figured out it must be some kind of borked CC I've installed. Left the game and then checked out my CC folder. Couldn't find anything corrupted, went back in again and still was lagging like hell. So I did a search and find for all the CC I had just installed in my CAS categories...well...Jem's hair wasn't there and a bunch of other EA store stuff I had installed was MISSING!
I went back to the launcher and they looked installed. SO I decided to uninstall and convert them to package format and try again, same problem. This time it was worse. CAS was slow like a snail who just smoked 500kgs of weed. I decided to take the EA stuff out and try again, game loaded up fine and had no problems in CAS. SO naturally, I was sad. However, I wanted to play with Jem, so I've had to modify her Miss Eva. Her hair is different, but I have tried to match everything else up as best as I could. I'm sorry
But I hope the drama I have for you will make up for my games borkedness. (I did some research on MATY and apparently that can happen with EA store content, but only in some peoples games. Yeah typical. I didn't end up patching my game cause frankly I don't even wanna look at the Late Night icon right now

) I also apologise to CeCe, Ramone has some missing CC and I can't pinpoint what it is. My game borked him up too. Stupid game.
Anyway, let's begin! I initially had plans to hook Jem up with every boy I could find, but things took an interesting turn for the...LOLS.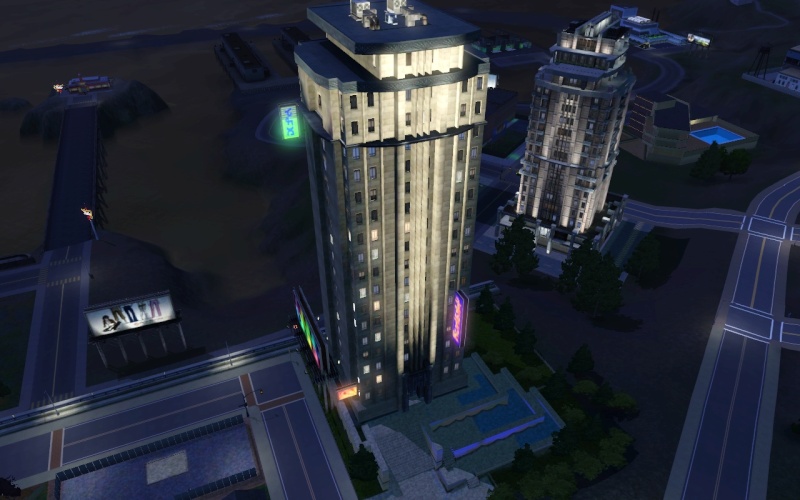 Welcome to Casa de Hottness. This is where I imprison good looking male sims yah.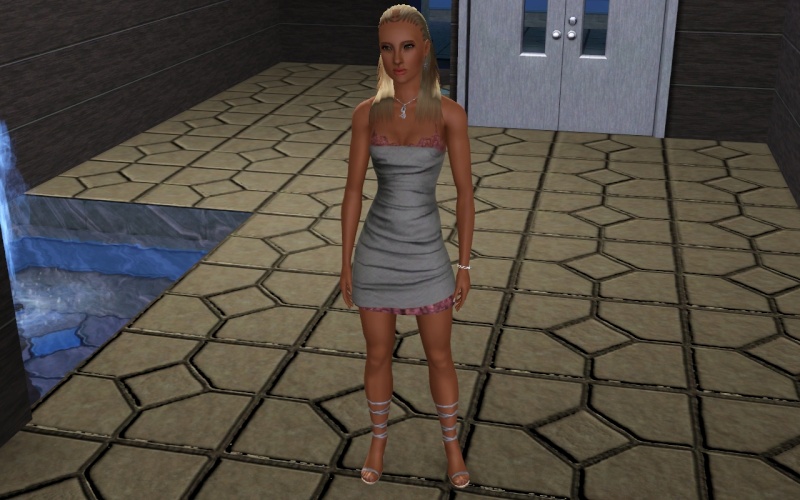 Hi Jem! Sorry bout the hair yah! I suggest people view the original Jem Hofler, which you can find
here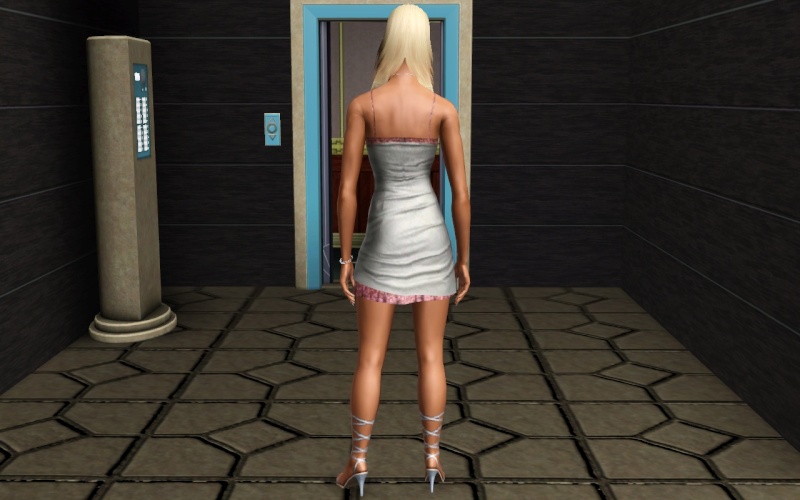 Does she dare to enter Casa De Hottness?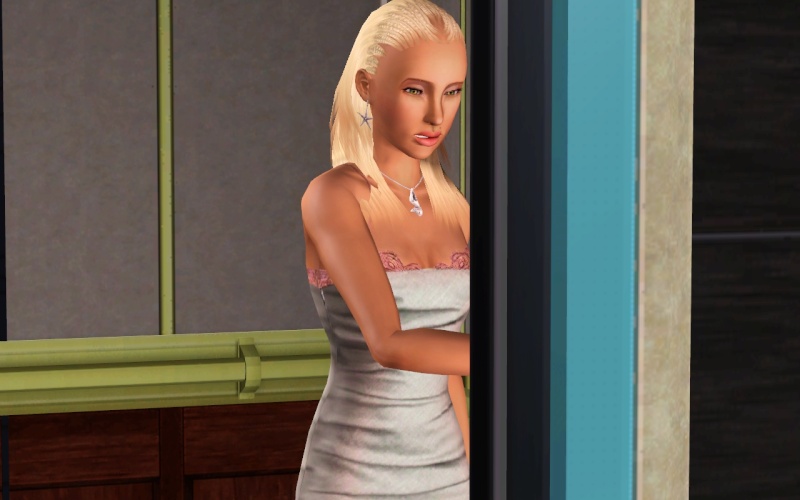 Yes she does. Smart girl.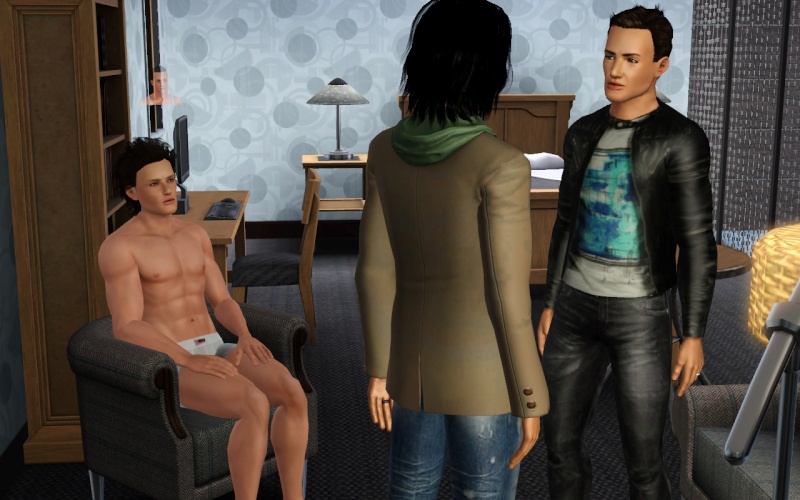 The boys were standing around doing nothing as per usual.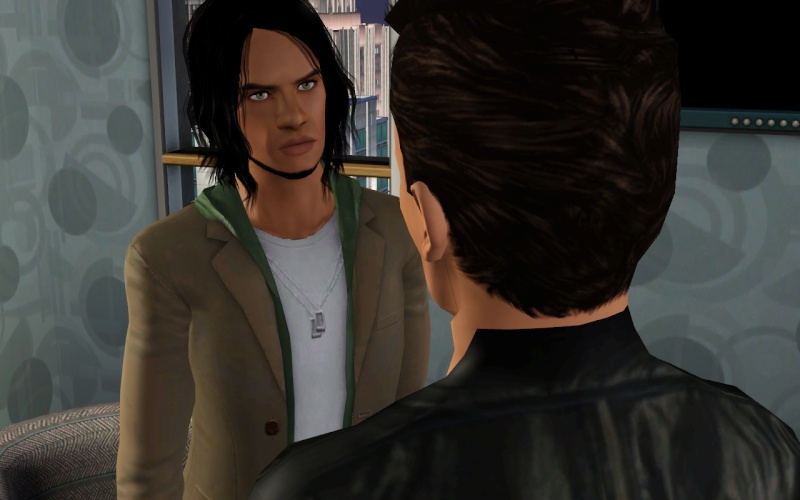 Jason and Ramone were becoming quite good friends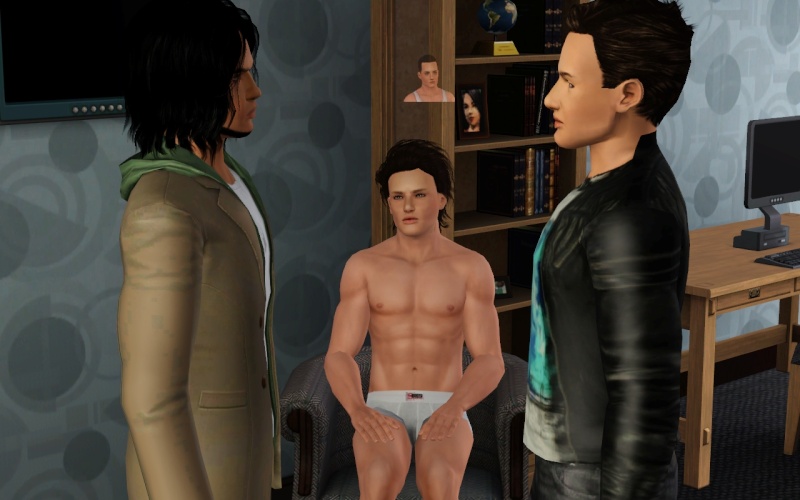 Tristan has yet to learn to wear clothes.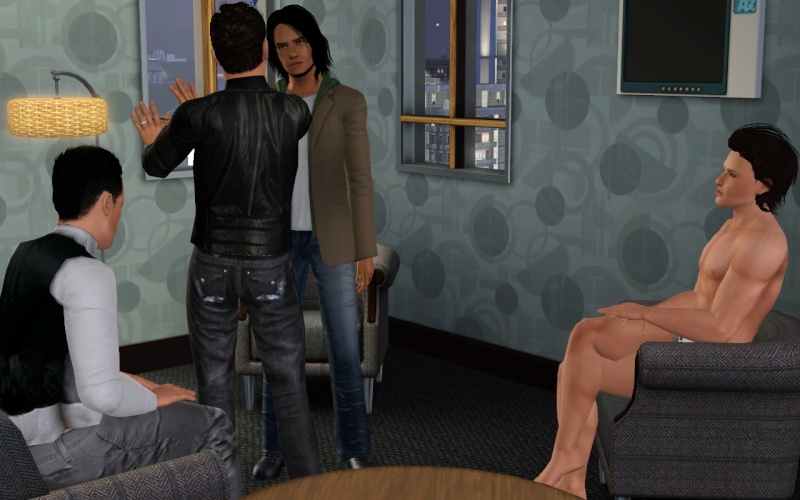 I also think he's hiding something from me...and Ava.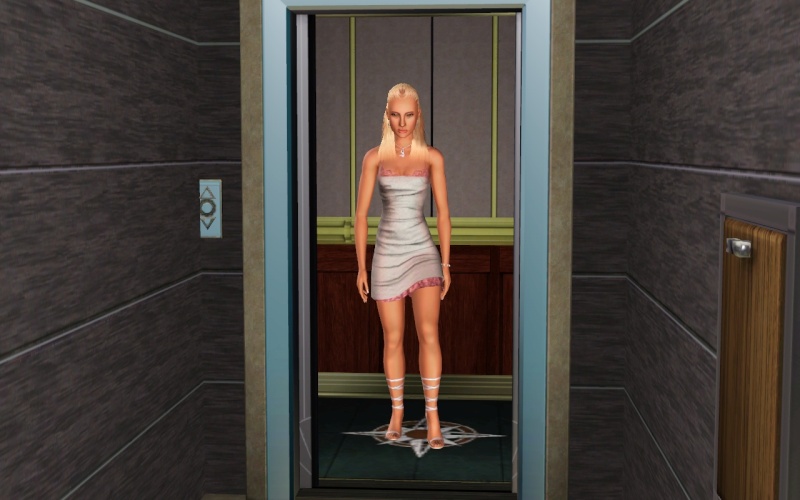 You have reached heaven.
I got a bit concerned at this point cause: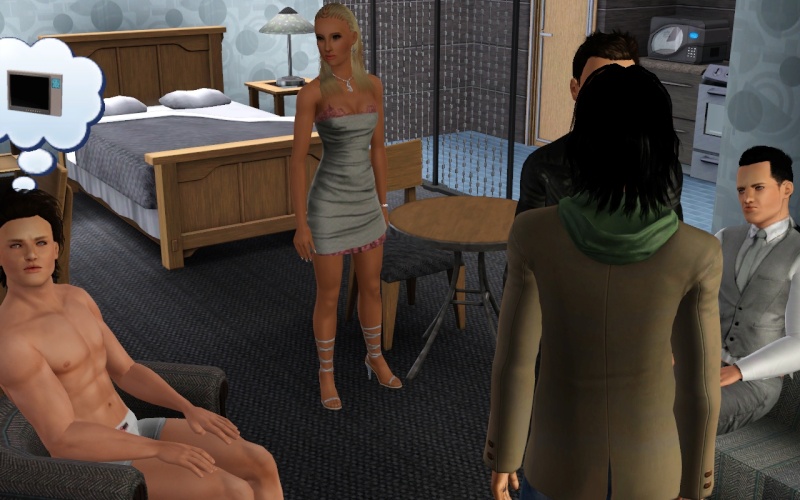 Dudes! WOMAN! Like look to your lefts and rights and stuffs. BOOBS!
Jem stood there for awhile and I sat there watching for AGES and then finally Jason decided to make a move, all on his own. Thats my boy.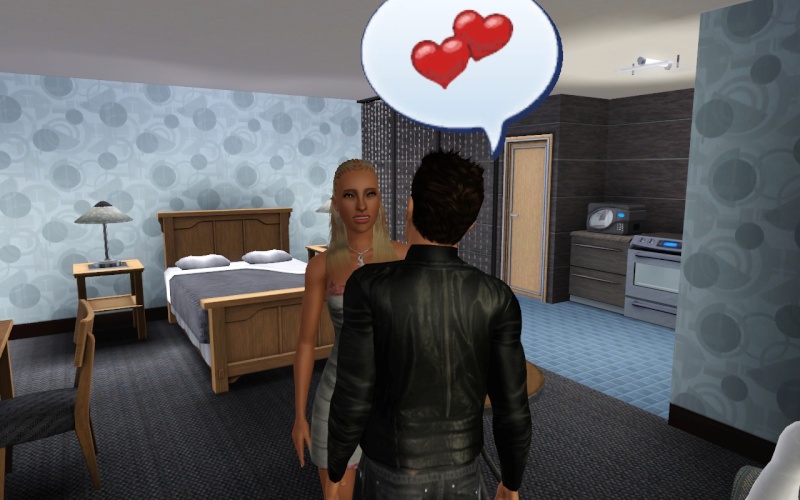 Flirty flirt flirt.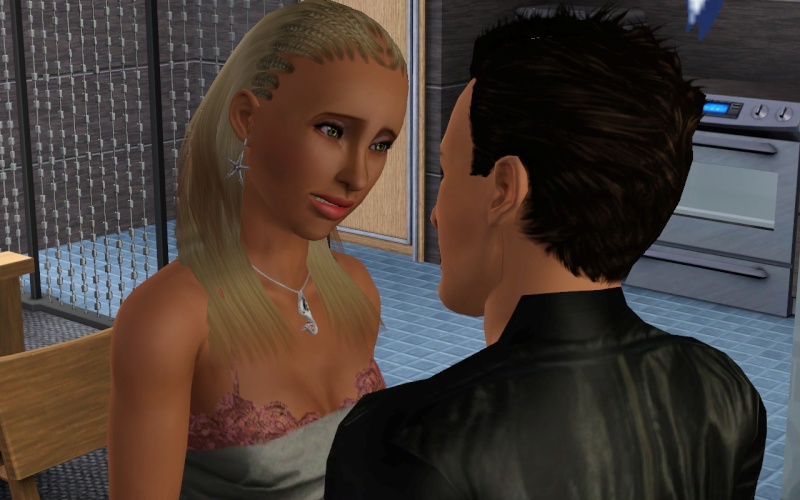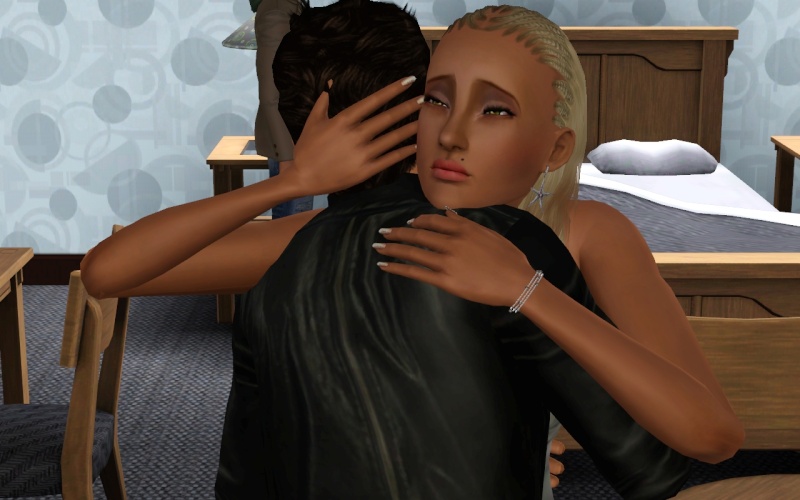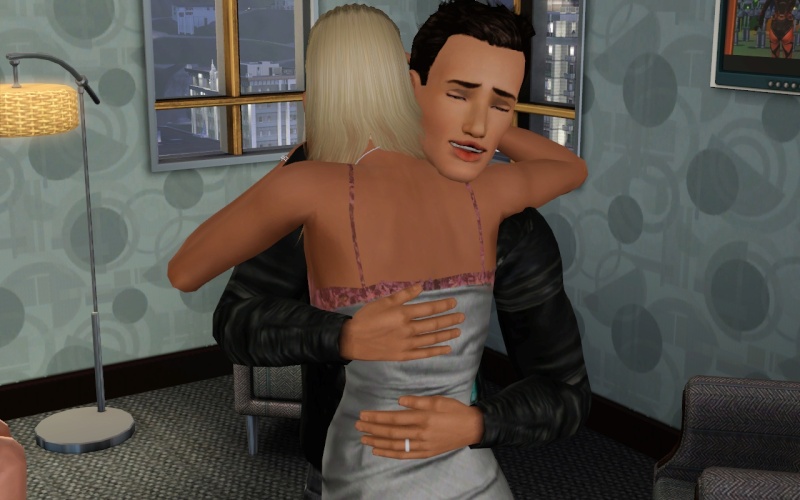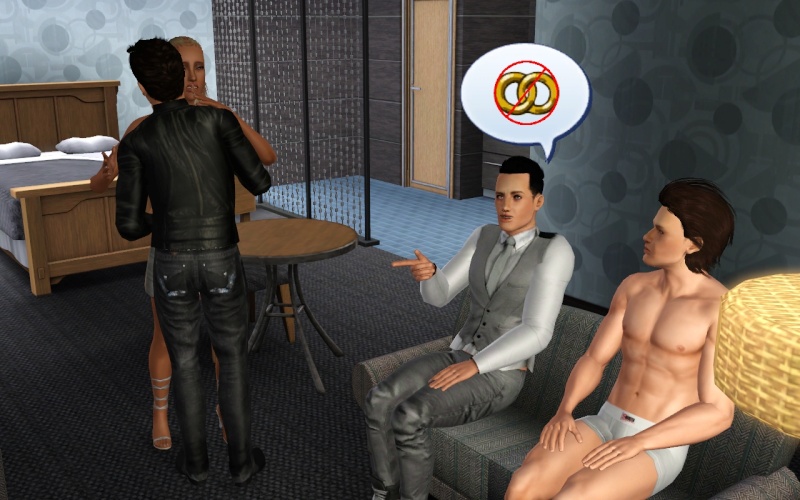 Damnit Max! I will not have that kind of talk in my house! That's why Amelia left your ass, cheating buttface.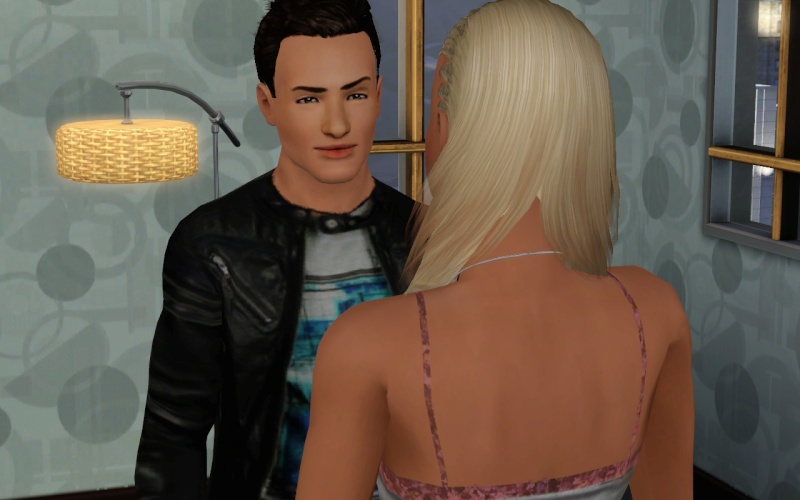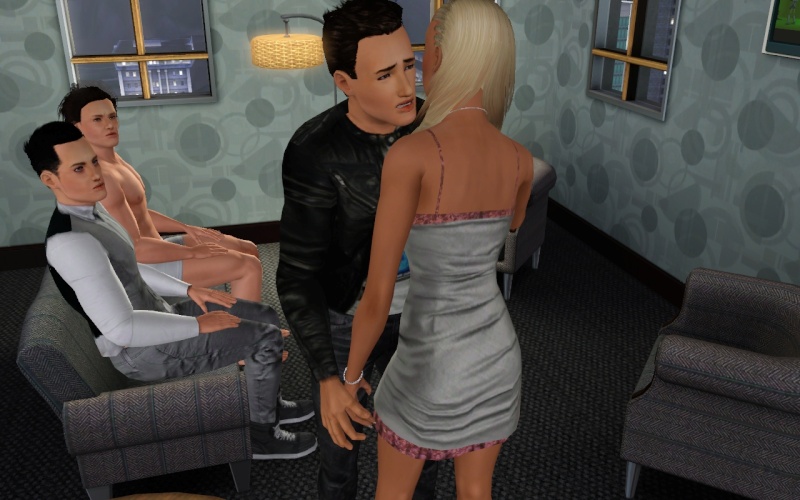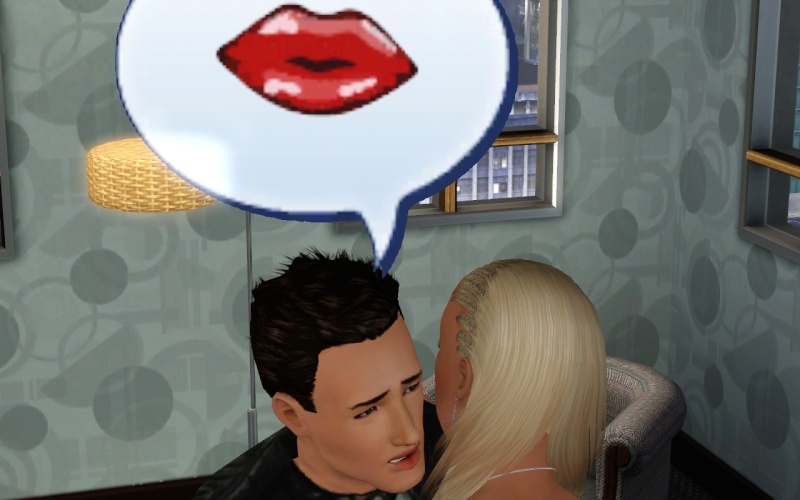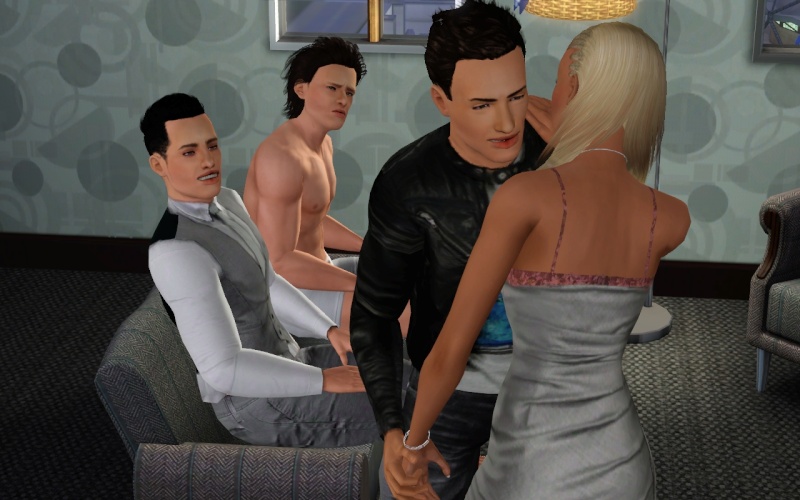 Max you are such a pervert. If they had sim porno, he would have the largest collection in Sunset Valley, Riverview, Twinbrook, Barnacle Bay, Bridgeport and every custom world you can find online.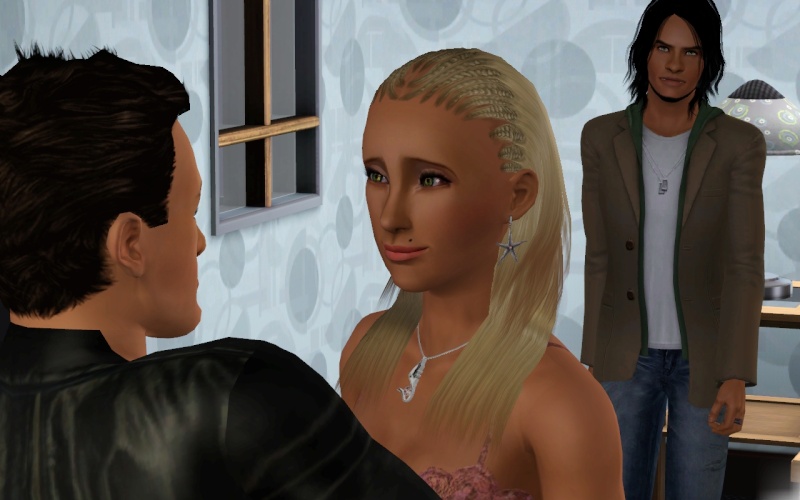 Ramone who had been watching from the comfort of the bed, decided that you know what, I'm hotter than Jason, I'm gonna hit on Jem. I'm gonna walk right up and...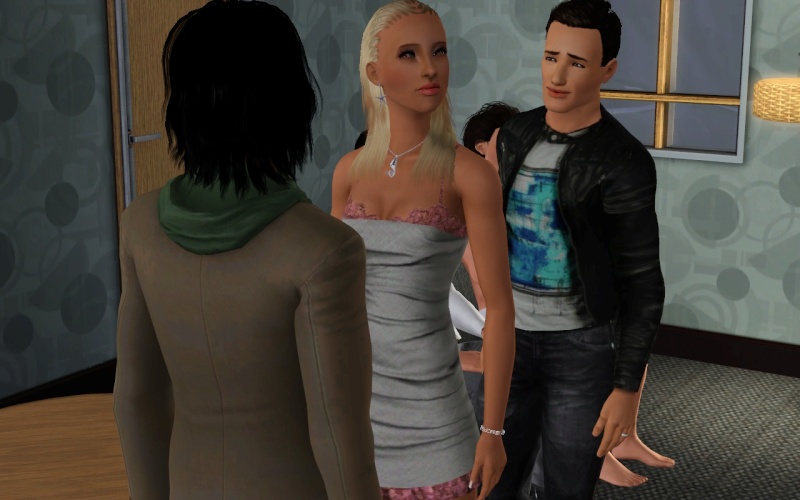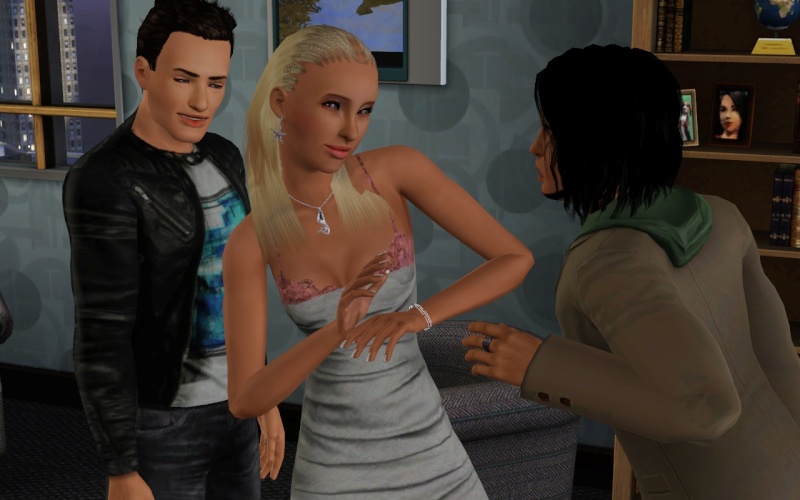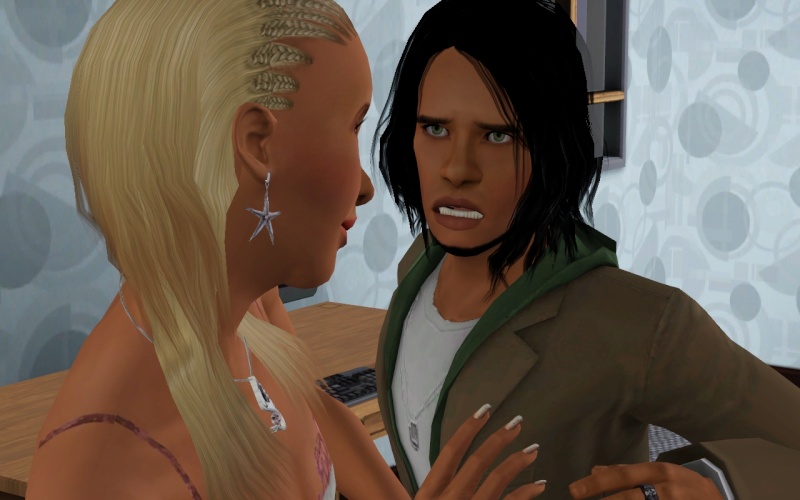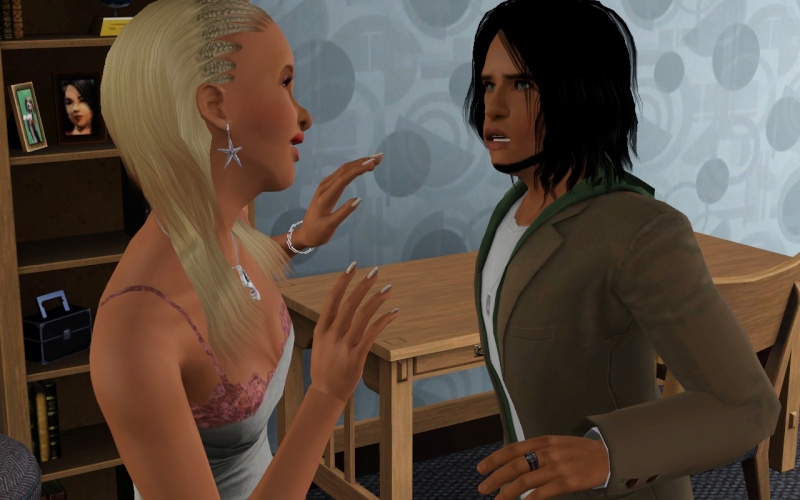 LMAO! HAHAHAHA! Oh Ramone, nice.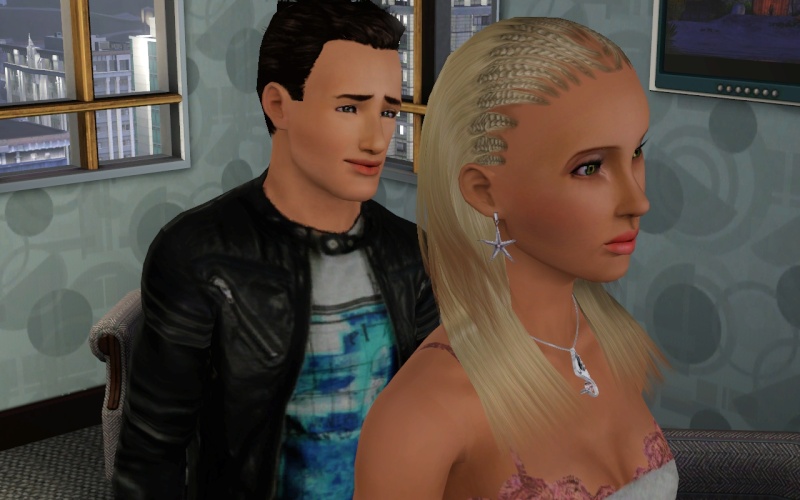 Jason found it amusing.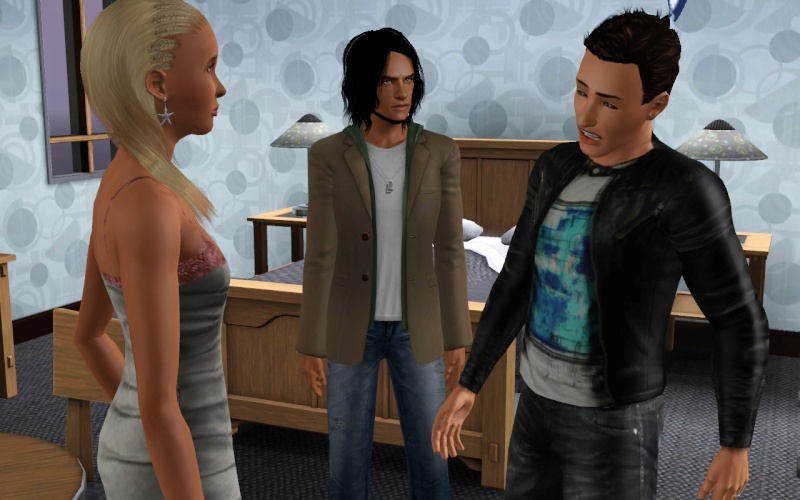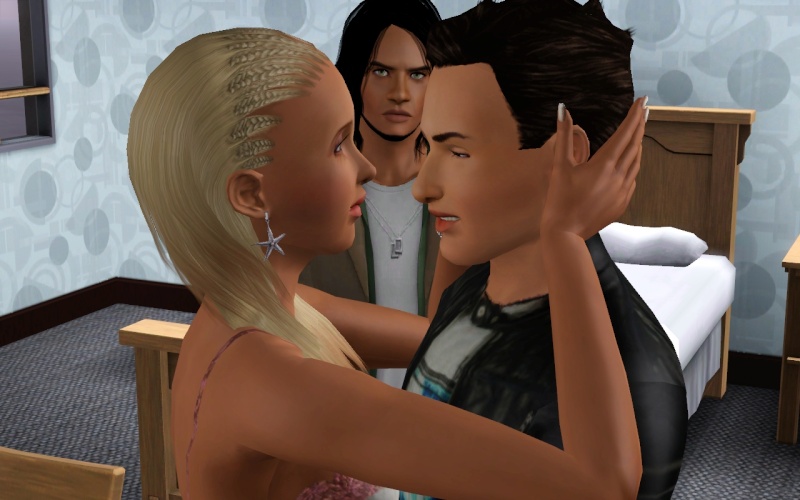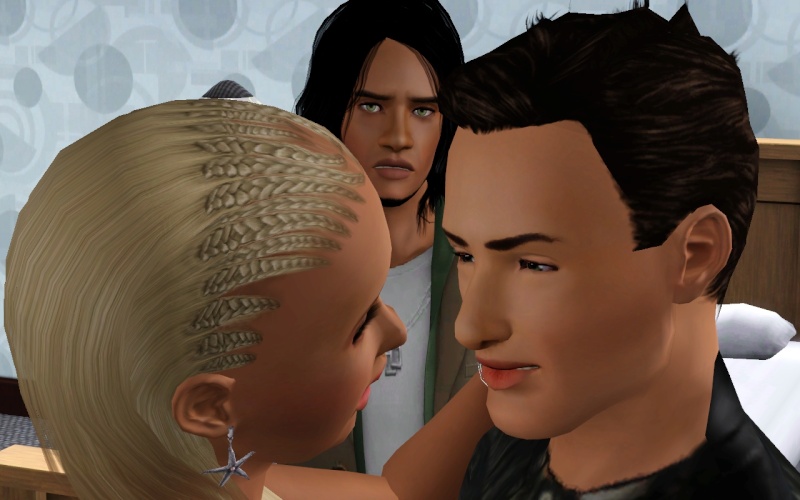 Oh poor Ramone...do you need a hug? I think Miss Eva will give you one, then Q, then me. :D
Oh noes...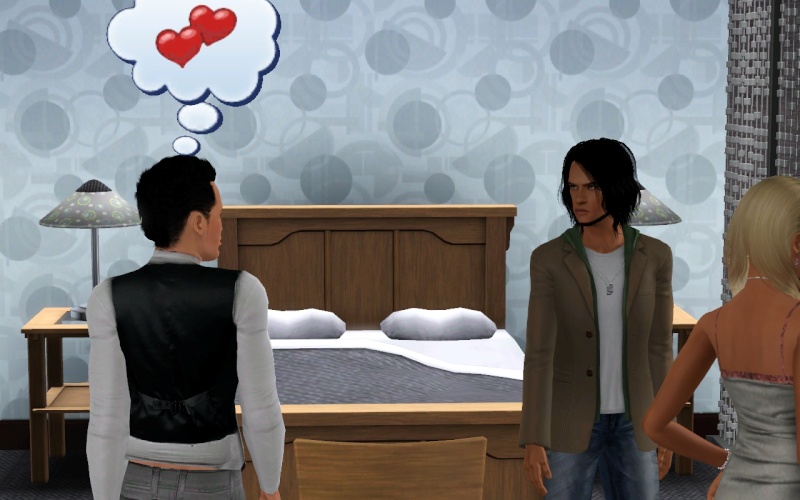 "HAR HAR!" Now Max that's not very nice. Don't provoke people.
Well I thought things were pretty much over then, but something interesting happened. I spotted this in tha kitchen, where things are cooked. In this case we was cooking up some...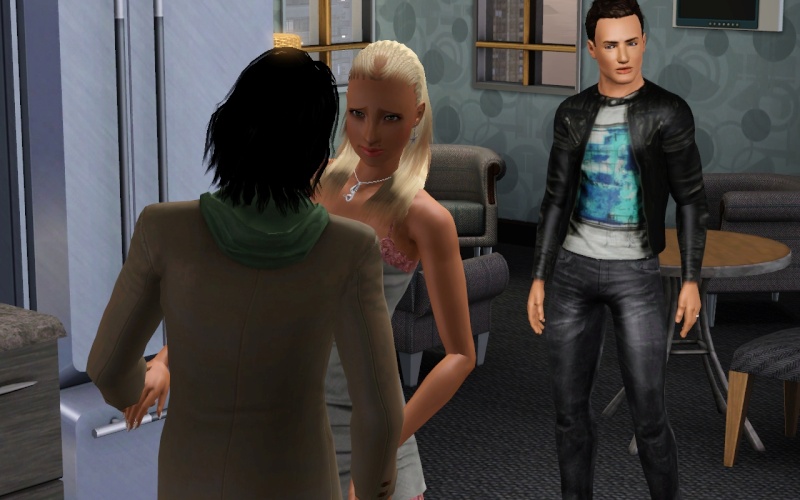 CHEATERINGS!!!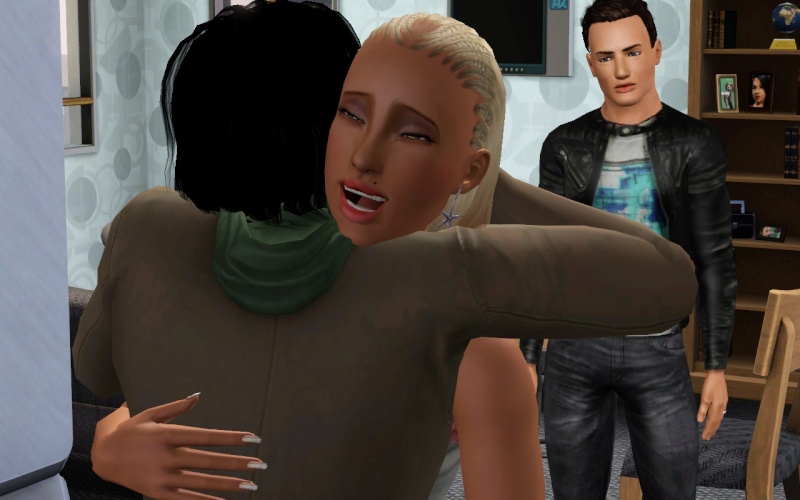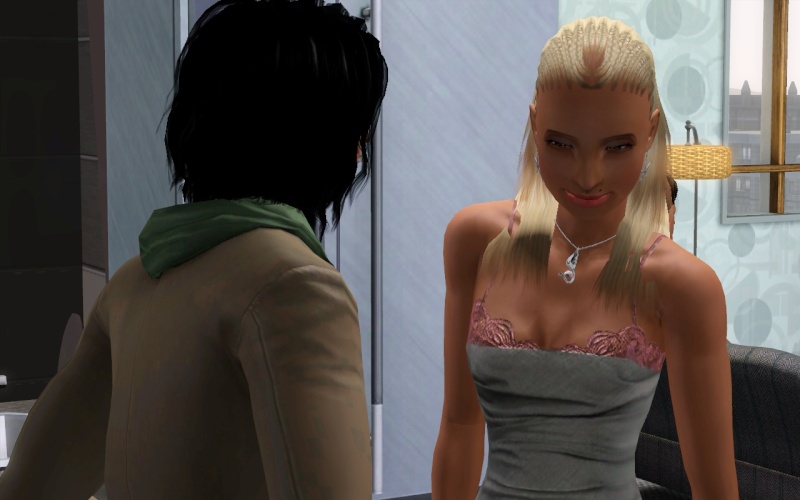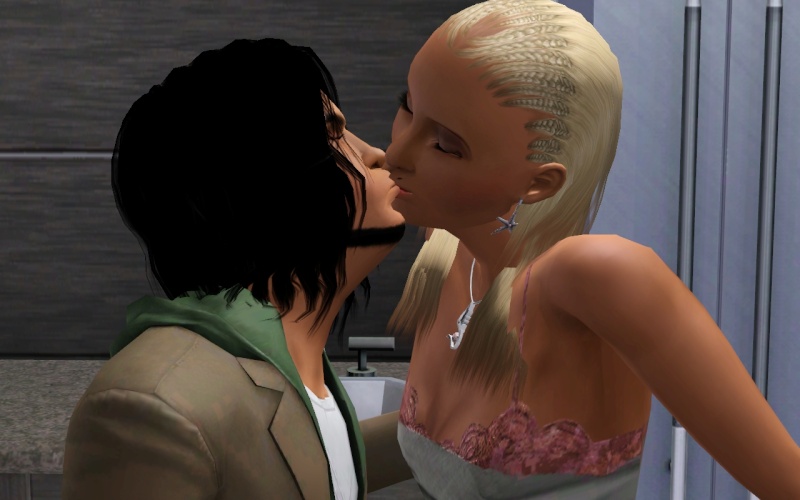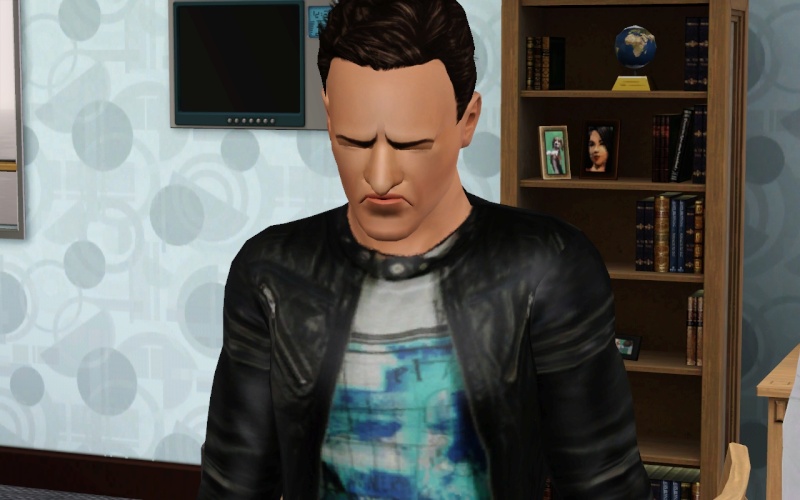 BOO.HOO. Jason you win some you lose some.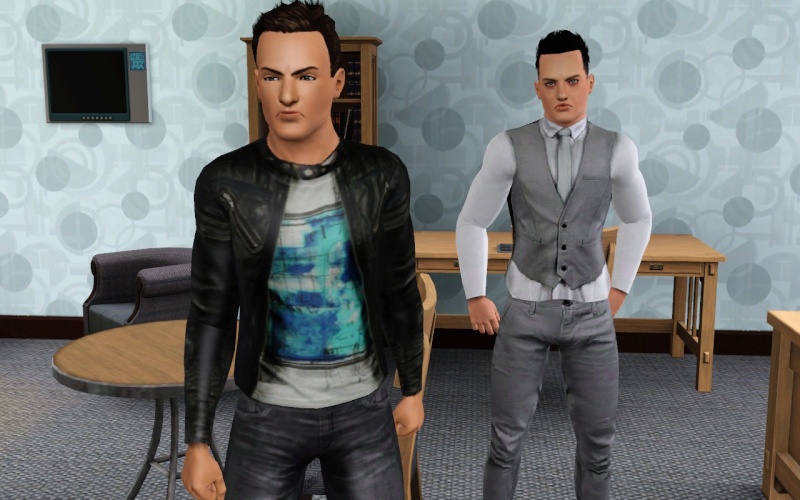 Oh noes, I think the boys are mad. Puh-lease. Especially you Max, you just look constipated. Jason, you look hot. As always.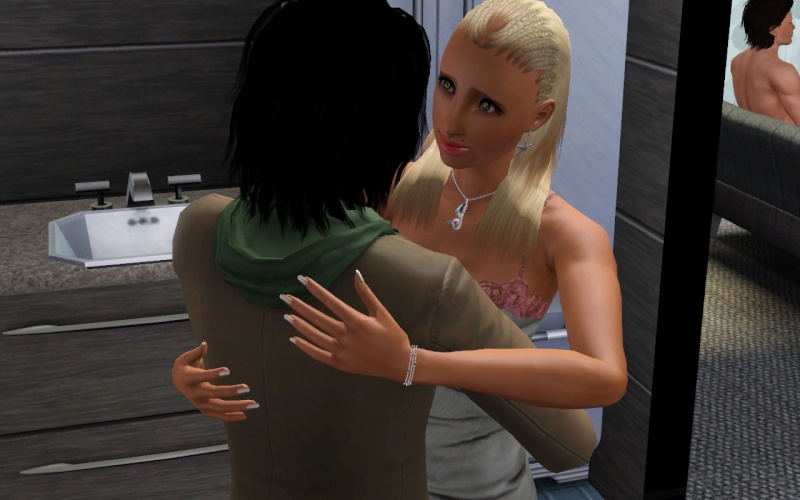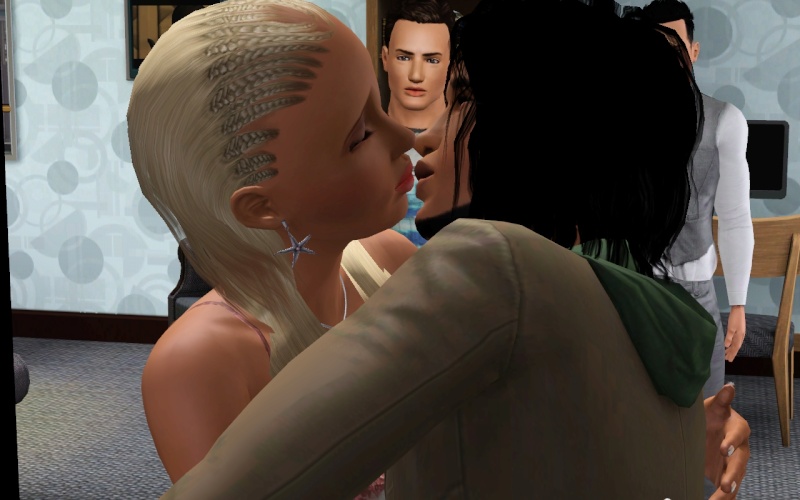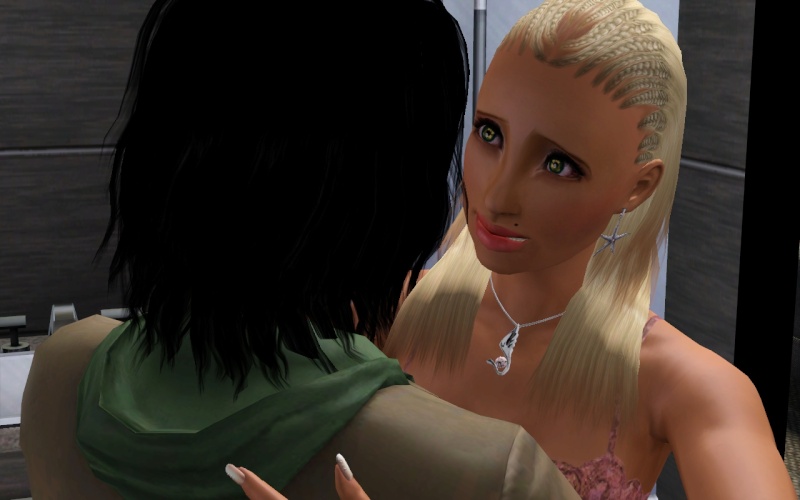 It's love, what can I say? :D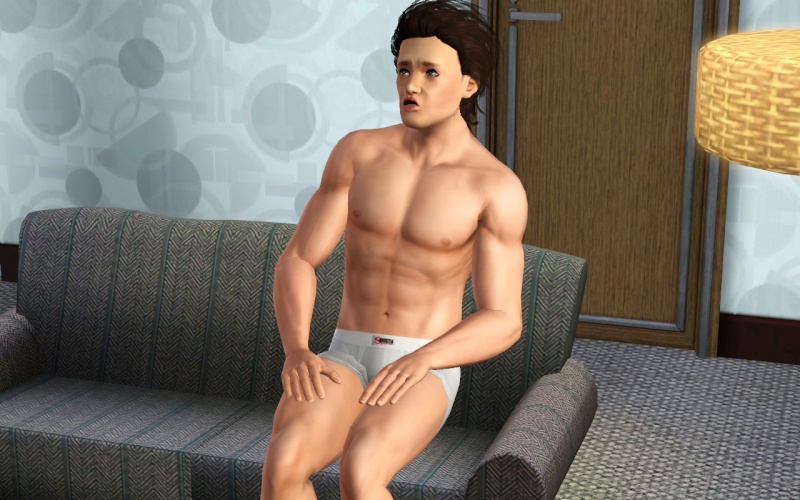 He's dumb, what can I say?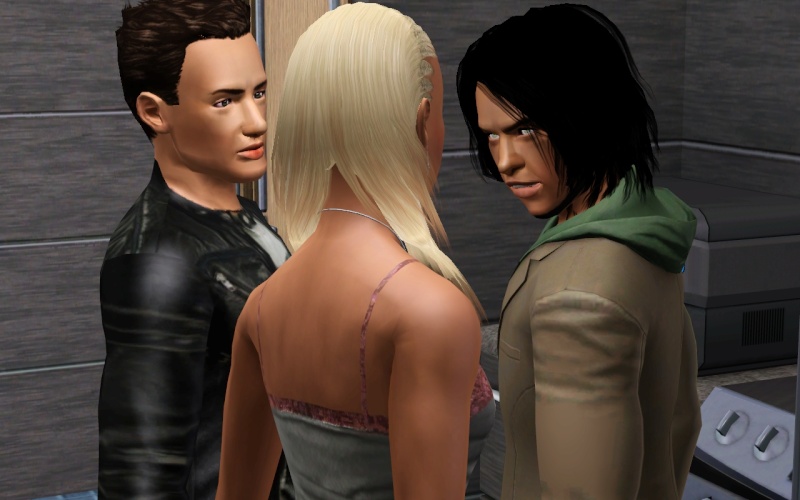 Next thing I knew, Jason wanted to brawl. Jeez, Jason, you could have ANY girl you want. Learn to share.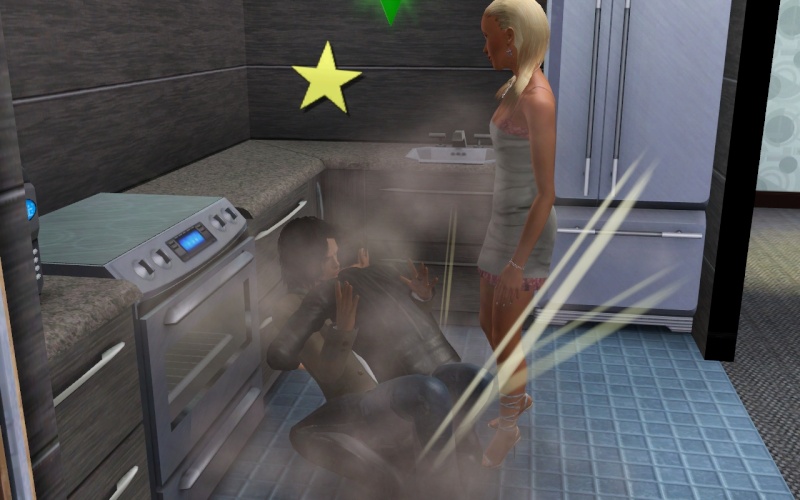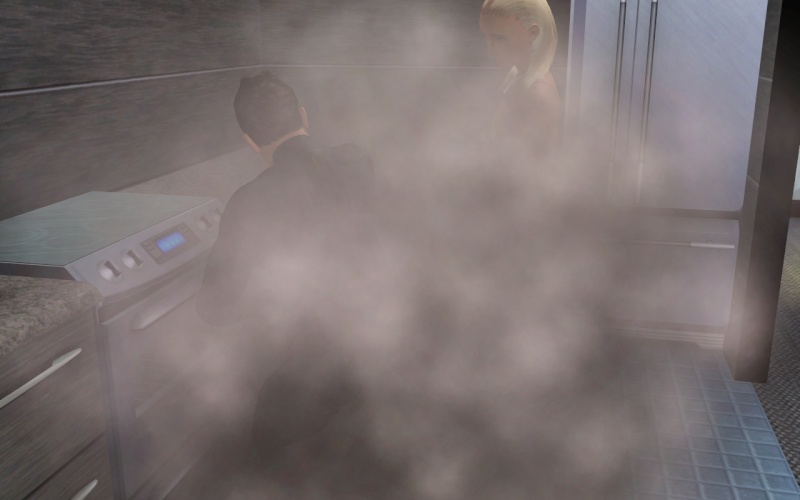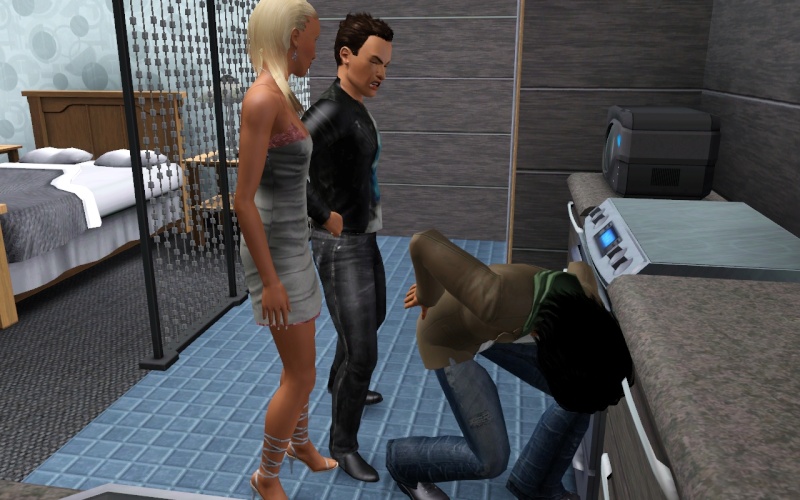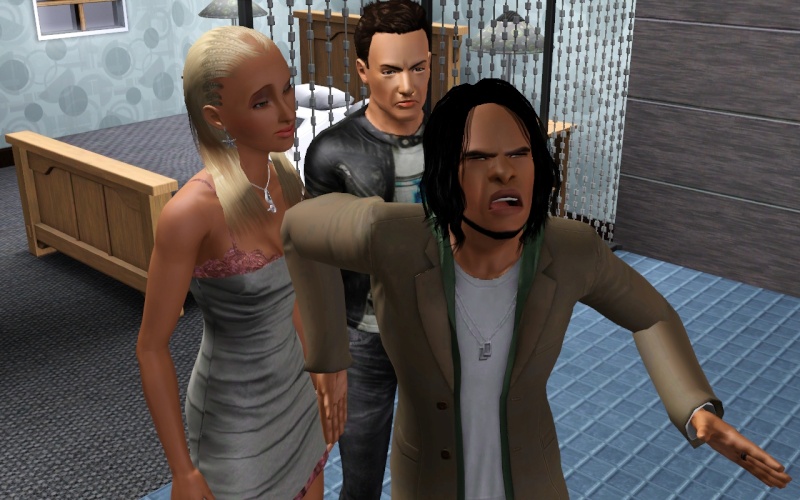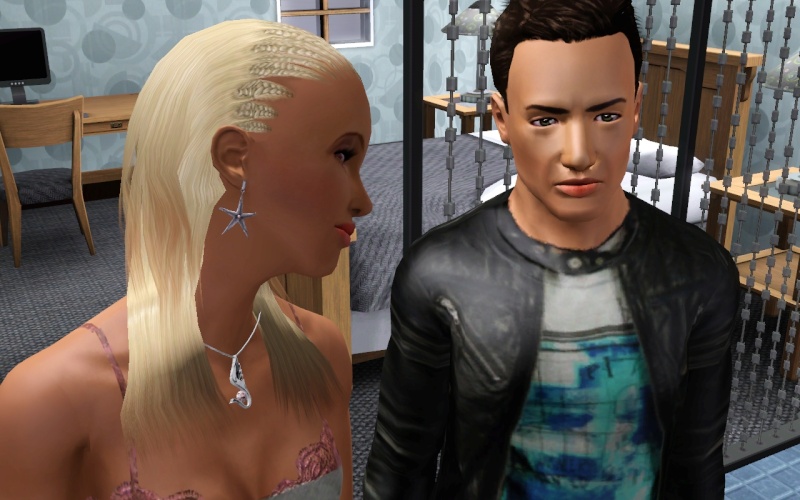 You may have won the fight Jason...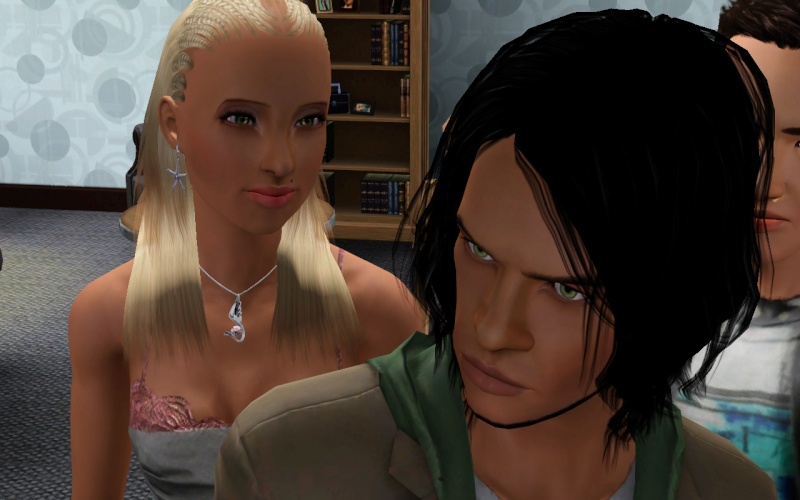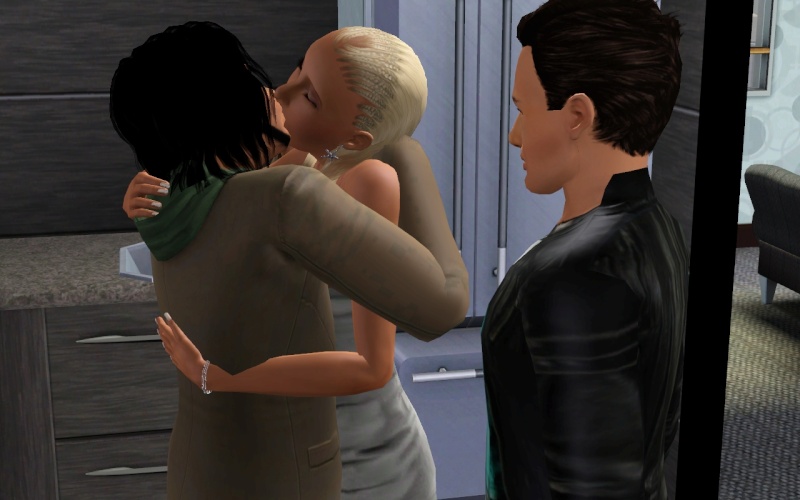 ...but Ramone got the girl.
This has been a Miss Lochness production. Totally not copyrighted.